Rand Rally Surprising Markets Spurred by Traders' Short-Covering
By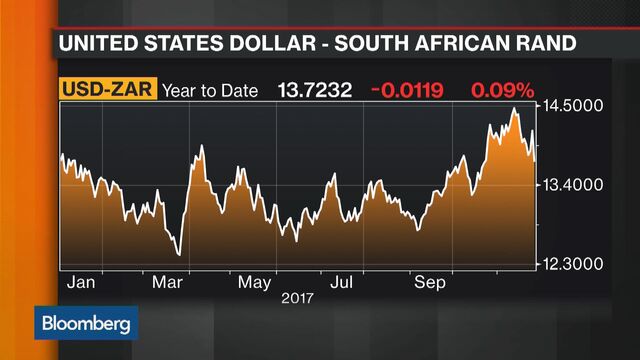 The rand's rally this week came as traders scrambled to cover short positions built up heading into last week's sovereign rating reviews.
Investors drove the rand down on Friday to take losses to nearly 2 percent against the dollar when S&P Global Ratings downgraded South Africa's local-currency debt to junk. Buying emerged after Moody's Investors Service maintained its investment grade, forcing bears to cover their positions, according to Rand Merchant Bank.

"You would be forgiven for thinking that South Africa managed to avert a downgrade on Friday if you had a look at yesterday's price action," said Michelle Wohlberg, a fixed-income trader at Rand Merchant Bank, referring to the rand's 2.9 percent rally Monday. "These movements had a few traders scratching their heads. Much of this move was short-covering from offshore players, and as the market moved lower, it sparked even more buying."
Expectations are for the currency to continue to rise against the dollar, with markets pricing in a win for Cyril Ramaphosa at the ruling African National Congress leadership conference next month. Victory for Ramaphosa over Nkosazana Dlamini-Zuma in the race for ANC President would see the rand "strengthen far beyond current levels", according to Rand Merchant Bank. The bank's end-year rand target is 13.50 per dollar, which would represent a gain of another 1.8 percent from current levels.
Before it's here, it's on the Bloomberg Terminal.
LEARN MORE