Pope Francis Urges Tolerance in Myanmar Amid Rohingya Crisis
By
Reconcilation vital as strife grips Southeast Asian nation

Pontiff speaks in capital day after meeting military chief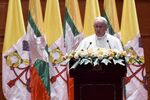 Pope Francis urged continued ethnic reconciliation in a speech that avoided direct reference to the Rohingya refugee crisis that has fueled criticism of the nation's Nobel laureate leader, Aung San Suu Kyi.
The pontiff is on a six-day visit to Myanmar and neighboring Bangladesh, where more than 600,000 of the predominately Muslim Rohingya ethnic group have fled amid a violet military crackdown. His speech, which was attended by Suu Kyi, came just days after U.S. Secretary of State Rex Tillerson condemned Myanmar's actions as "ethnic cleansing."
"The future of Myanmar must be peace," Pope Francis told government leaders and diplomats in the capital, Naypyidaw. "A peace based on respect for the dignity and rights of each member of society, respect for each ethnic group and its identity, respect for the rule of law, and respect for the democratic order that enables each individual and every group -- none excluded -- to offer its legitimate contribution to the common good."
The pope's remarks avoided any direct reference to the Rohingya, which Myanmar doesn't include among its 135 officially recognized ethnic groups, and also gave credit to the government's peace achievements. Still, he urged leaders to "end violence, to build trust and to ensure respect for the rights of all who call this land their home."
The current crisis was sparked in August when militants from the Arakan Rohingya Salvation Army attacked 25 police and army posts, killing a dozen security officials in country's western state of Rakhine.
The military responded with what it calls "clearance operations." Multiple reports have since accused security forces and Buddhist vigilantes of indiscriminately attacking Muslims in the state and burning their villages.
Suu Kyi, a political prisoner-turned-political leader, has seen her reputation tarnished by the Rakhine crisis.
She has come under fire for not speaking out more forcefully against the violence and for questioning reports of violence committed by government security forces. She initially scoffed at reports of human rights violations, calling them "a huge iceberg of misinformation" intended to promote the interests of terrorism.
Before it's here, it's on the Bloomberg Terminal.
LEARN MORE