Pelosi Calls for Conyers Harassment Ethics Probe to Move Quickly
By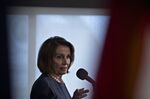 House Democratic Leader Nancy Pelosi encouraged the Ethics Committee to "proceed expeditiously" as it investigates sexual harassment claims made against Representative John Conyers, a Michigan Democrat.
In a letter Tuesday to ethics panel Chairwoman Susan Brooks, an Indiana Republican, and the panel's top Democrat, Ted Deutch, a Florida Democrat, Pelosi said the committee has "a great responsibility to proceed expeditiously as well as fairly into an investigation" of credible allegations.
"Should you need any additional resources to fairly and swiftly pursue these investigations, please make that need known," Pelosi wrote.
The ethics probe began after reports last week that Conyers reached a $27,000 settlement with a former staffer who said she was fired for rejecting his sexual advances. Since then, Conyers has been accused of harassment by ethics lawyer Melanie Sloan and sexual harassment by former staffer Deanna Maher. Conyers has acknowledged the settlement but denied the sexual harassment claims.
The letter comes as Pelosi, and the Democratic Party as a whole, struggle to find a consistent way to address the allegations of sexual harassment made against Conyers and Minnesota Democrat Al Franken in the Senate. Representative Pramila Jayapal, a Washington Democrat, joined Representative Kathleen Rice, a New York Democrat, in calling for Conyers to resign. Party leadership, meanwhile, has only supported the Ethics Committee investigation.
Pelosi was criticized Sunday after calling Conyers an "icon" and declining to say whether she believes the accusations against him. Conyers said later that day he would step down as the ranking Democrat on the Judiciary Committee.
On Monday, Pelosi said in a statement that she had spoken to Sloan on the phone and believed her account of what happened. "I find the behavior Ms. Sloan described unacceptable and disappointing," Pelosi said.
Before it's here, it's on the Bloomberg Terminal.
LEARN MORE