Older Millennials Were the Biggest Spenders During Holiday Weekend
By
Trade group says total number of shoppers beat its estimate

Still, other data suggests that brick-and-mortar visits fell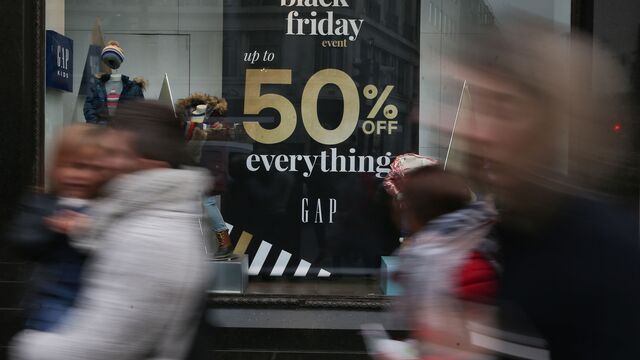 The kickoff to the holiday shopping season brought mixed results to retailers, with traffic falling at many stores. But don't blame older millennials.
Shoppers in that age group, which ranges from 25 to 34, were the biggest spenders during the long Thanksgiving weekend, according to the National Retail Federation. Older millennials shelled out $419.52 during the five-day stretch, 25 percent more than the overall average.
The survey findings reflect the growing clout of millennials in their 20s and 30s, especially as more of them form families and enter prime spending years. Still, their higher profile is a mixed blessing for retailers. Such shoppers are more likely to buy online -- often using their phones -- meaning brick-and-mortar storefronts won't see as much of a traffic bump.

In all, the NRF found that 174 million Americans shopped online and in stores during the period, which was characterized by heavy marketing and deep discounts. While that beats the 164 million figure that the trade group previously estimated, it's hard to compare with past performance. The organization changed its methodology to include Cyber Monday in the tally, meaning earlier years' information doesn't match up.
"The big takeaway here is: Gone are the days you could measure the success of this weekend by looking at a single metric," NRF Chief Executive Officer Matthew Shay said on a conference call.
E-Commerce Question
It's also difficult to tell from the NRF data how e-commerce sales compared with brick-and-mortar shopping. But other surveys have indicated that physical chains saw smaller crowds this year. The research firm ShopperTrak found that shopper visits declined 1.6 percent combined on Thanksgiving and Black Friday.
Overall spending in the holiday season is expected to rise as much as 4 percent from last year, helped by low unemployment and rising home values. The purchases will amount to about $680 billion in November and December, the Washington-based NRF has estimated.
The trade group's survey, conducted by Prosper Insights & Analytics, found that 64.6 million Americans shopped both online and in stores. That compares with 58.4 million who shopped online and 51.6 million on who only went to stores.
Clothing and accessories was the biggest product category over the long weekend, followed by toys, books and other media, and electronics.
Not surprisingly, Americans who bought from multiple channels tended to spend more money. These shoppers spent $82 more on average than online-only consumers and $49 more than people who only visited physical stores.
"We were very encouraged that what we saw was strong engagement across the board, both in stores an online," Shay said. "That validates the investment retailers are making to reach customers in multiple ways."
Before it's here, it's on the Bloomberg Terminal.
LEARN MORE