May Lines Up Cabinet Behind Her in Push for Brexit Breakthrough
By and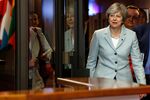 U.K. Prime Minister Theresa May is lining her Cabinet up behind her as she engages in high stakes diplomacy, and talks with a Northern Irish ally to secure a breakthrough in long-stalled Brexit talks.
With just six days to go until a meeting with European Commission President Jean-Claude Juncker that could pave the way for a deal, May had a "very long and detailed discussion" with her Cabinet about the state of play. She briefed them on her push to get the European Union to agree to start trade negotiations at a summit in December.
"The discussion was about progress made so far and the path leading to December council," her spokesman, James Slack, told reporters in London. The conversation was "very constructive," he said, even as pro-Brexit Trade Minister Liam Fox struck a combative tone on a trip to Australia.
Fox Takes Hard Line on Brexit as U.K. Works for Breakthrough
The U.K.'s chances of starting crucial trade talks by Christmas now hinge on the thorny issue of the Irish border -- how to avoid dividing the island of Ireland with border posts that will mark the frontier between the post-Brexit U.K. and the EU.
May has to come up with a solution that's acceptable to Ireland and most of all to the Northern Irish party whose votes she needs in Parliament to govern.
Threat Averted
The premier got some good news on Tuesday as the threat was averted of an early election in the Republic of Ireland. That could have added an extra political dimension -- and perhaps a tougher Irish stance -- to Brexit talks.
Ireland has a veto at this stage of negotiations and could stop talks moving on from the divorce issues to trade at the December summit if it's not satisfied with Britain's proposal on the border. May has spoken to Irish Prime Minister Leo Varadkar "on a number of occasions," Slack said.
That's just one part of the carefully stage-managed diplomacy May's team is engaged in as it charts a course toward a crunch summit starting Dec. 14.
She'll meet Juncker on Dec. 4, which is tipped to be the moment the two sides could seal an agreement that will allow long-delayed trade talks to begin. The EU set that date as the deadline for Britain to improve its offer on the contentious divorce settlement and also come up with a solution to the Irish border conundrum.
There has to be a policed frontier somewhere as the U.K. is leaving the single market that makes the current open border possible. But a return to checkpoints would stir memories of decades of violence between Protestants and Catholics -- not to mention also harm the island's economy.
Ex-IRA Man Says Brexit Threatens Economy Not Peace in Ireland
Before it's here, it's on the Bloomberg Terminal.
LEARN MORE