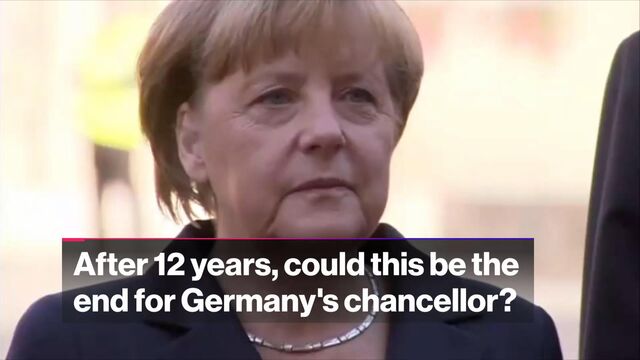 Germany has been an oasis of political stability in a fractious Europe since Angela Merkel became chancellor in 2005. Her failure to form a coalition government, after a month of talks, raised concerns in Germany and throughout the European Union, which is already grappling with risks posed by Brexit. Now that the Social Democrats have opened the door for a "grand coalition" -- a government of the two biggest parties in parliament -- chances have increased that a long stretch of uncertainty can be avoided.
1. How did Merkel get into this pickle in the first place?
The surge of the anti-immigration Alternative for Germany party, which became the third-largest force in the Bundestag after winning 12.6 percent of the vote in September's election, narrowed Merkel's options for forming a government. (Because of Germany's parliamentary system, it's next to impossible for one party to win an absolute majority, so coalitions are the norm.) Merkel's bloc, which comprises the Christian Democratic Union and its Bavarian ally, the Christian Social Union, explored a coalition with the pro-market Free Democrats and the Green party. Those talks broke down on Nov. 19, when the FDP walked out citing disagreements on immigration, tax cuts and EU policy. Even Merkel, once dubbed "the queen of the back rooms," couldn't bridge them.
2. Where does that leave Merkel?
While she could head a minority government or hold out for new elections, she wants a coalition with a majority in the Bundestag. That pushes her toward the Social Democrats, or SPD, the junior partner for eight of her 12 years as chancellor. The SPD just endured its worst election result since World War II, leading left-leaning members to favor going into opposition to "renew the party," a stance initially backed by SPD leader Martin Schulz. Faced with calls to help keep Germany stable, he made a U-turn and, on Dec. 7, swung the party behind exploratory talks with the CDU-CSU.
3. Could there be another grand coalition?
That's the way things are looking, though the SPD says it'll drive a hard bargain. Merkel would have to offer something -- possibly on social programs or a more-unified euro area -- that could win over the party's skeptical rank-and-file. She also needs to convince the SPD that the alternative to a coalition deal could be even worse: New elections might lead to poorer results, while a minority government could mean the Social Democrats end up supporting the policies of Merkel's bloc without having much say in the process. A majority government, by contrast, would provide the political stability to tackle a myriad of issues facing the country and its European allies.
4. What if the Social Democrats turn Merkel down?
She could decide to go it alone, something that's never been tried in post-World War II Germany. That would mean filling her cabinet with members of her bloc and relying on ad-hoc alliances with other parties to pass legislation. She could also try to partner with the Greens, but that would still be a minority government which would need support from the SPD or the Free Democrats to pass legislation. And the current environment, with the political center eroded, doesn't lend itself to trial and error. 
5. Can she do anything else?
Not really. Reviving efforts to form an alliance with the Free Democrats and the Greens looks doomed after Free Democrat leader Christian Lindner blamed a lack of trust, and not just policy clashes, as a reason for the breakdown in their prior talks. There's also no incentive for Merkel to consider a Social Democrat fringe proposal to bring the Greens into a super-sized coalition. A strong left-leaning counterweight to Merkel's bloc within a ruling coalition isn't anything the conservatives in her party would support.
6. What happens next?
Merkel and Schulz plan to meet on Dec. 13, with the Social Democrats hammering home the point that they don't want a coalition deal at any price. Starting negotiations will require approval by another SPD convention tentatively set for January. Then Schulz needs to secure a policy agenda that'll pass muster with the party's roughly 450,000 members, who get to vote on any coalition pact. At this rate, stitching together a government would probably take until next spring, with Merkel as caretaker chancellor for now.
7. Could there be new elections?
President Frank-Walter Steinmeier could call them once all attempts to form a majority government have failed and a minority-led government is deemed too unstable. Yet polls suggest growing public support for another grand coalition, including among SPD supporters. Failure to agree could reverse those gains and lead to losses in any new elections, which would probably happen next spring.
8. Would that be the end for Merkel?
Hard to call. The former East German physicist, whose rise to the top began with the fall of the Berlin Wall 28 years ago, has made a career of defying expectations. Her approval ratings have rebounded to the 50-60 percent range from multiyear lows in 2016, and she retains strong support among her party's members. But the strong showing by Alternative for Germany, the first far-right party since the 1950s to win Bundestag seats, has left her vulnerable as rarely before.
The Reference Shelf
Before it's here, it's on the Bloomberg Terminal.
LEARN MORE