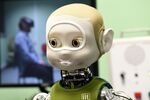 Rumors of the death of hedge funds have been, as the saying goes, greatly exaggerated. The industry nevertheless faces a battle to remain relevant amid the inexorable rise of low-cost passive strategies. And the smaller players are missing a trick that may cost them in the years ahead.
EY, the accounting firm formerly known as Ernst & Young, just published its 2017 global hedge fund and investor survey. Of the investors overseeing $1.6 trillion who were questioned, only one in ten said they plan to increase the $260 billion currently allocated to hedge funds, down from the 18 percent who in last year's survey said they planned to invest more.

By the start of October, investors had added $1.2 billion to hedge funds this year, following $70 billion of withdrawals in 2016. That rebound may well be only a blip: more investors plan to decrease their hedge fund allocations in the coming three years, according to the survey.
Darwinism, though, is alive and well in the industry. More than 40 percent of the hedge funds surveyed -- 106 firms managing $1.3 trillion -- have adopted non-traditional fee structures, with almost a third of those setting hurdles before performance fees are charged. That in turn reflects the preference of investors, of whom 46 percent favored such mechanisms.
And that's positive in two ways. Firstly, it shows hedge funds are willing and able to adapt to their straitened circumstances, with the old "two-and-twenty" model of claiming 2 percent of assets managed and 20 percent of returns looking increasingly outdated. More importantly, it suggests investors are still willing to pay for true out-performance.
Fees, though, aren't just changing in nature; they're also falling. A quarter of the hedge funds surveyed had either cut their management fees in recent years, or expected to do so in the coming year. As a result, the average operating expense ratio has dropped to 1.75 percent this year, down from 1.84 percent last year and 1.95 percent in 2015.
Curiously, though, given the potential cost savings, most hedge funds aren't considering introducing artificial intelligence or robots to do some of the drudge work of confirming positions or compiling expense and activity reports for clients.

EY notes that the firms that have invested or plan to invest in AI are those managing more than $10 billion. Many firms are taking what EY called a "wait-and-see" approach, preferring to let others invest the time and money before adopting what they hope will by then be tried-and-tested solutions. 
It seems smaller firms are too caught up in the day-to-day battle for survival to allocate valuable resources to exploring the uncertain and untested benefits of AI. If the replicants really are coming for all of our jobs, hedge funds that get left behind may not live to regret their resistance to robots.
Before it's here, it's on the Bloomberg Terminal.
LEARN MORE