Brexit Bulletin: Depending on the DUP
By
Deal hinges on Irish border puzzle as talks go to the wire

U.K. and EU officials continue discussions on a joint position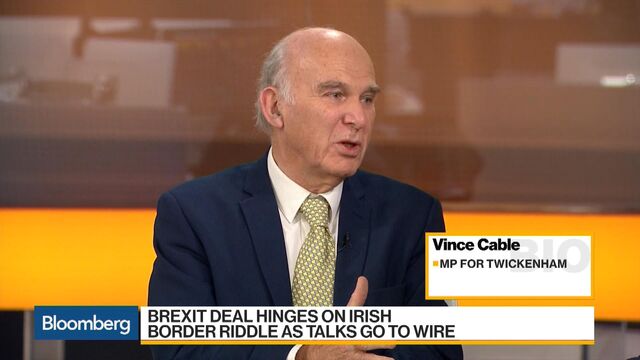 Sign up to receive the Brexit Bulletin in your inbox, and follow @Brexit on Twitter.
Theresa May's chances of getting a Brexit breakthrough in the coming days hinge on her ability to convince the Northern Ireland party that props up her government to accept a compromise on the Irish border.
EU chiefs are expecting May next Monday to offer more money on the divorce bill. But a disagreement with Northern Ireland's Democratic Unionists over how far she can go on the border question could scupper the deal.
Irish and EU officials have suggested that Northern Ireland be given a different status, implying the creation of some kind of border between Northern Ireland and the rest of the U.K., but the DUP is adamant that can't happen. The DUP's raison d'etre is keeping Northern Ireland in the U.K. There has to be a policed border somewhere as May plans to pull the U.K. out of the single market and the customs union, which make possible the almost invisible border that helped secure peace on the island. The trade deal the U.K. and the EU are likely to end up striking won't be tight enough to keep the border open.
Ireland is backed by the rest of the EU in wanting written assurances that the U.K.'s withdrawal won't lead to a return of checkpoints that would stir memories of decades of violence. May had hoped to park the issue but it's a red line for the Irish – whose government has dug in while also embroiled in a domestic scandal that could bring early elections. 
At her party conference on Saturday, DUP leader Arlene Foster said she would oppose the most straightforward means of avoiding a hard border – applying EU rules to Northern Ireland after Brexit. On Friday, she said the U.K. government is "listening carefully" to Northern Ireland.

Meanwhile, officials from the EU and the U.K. have continued discussions in the past few days in a push to reach a joint position on the issues that must be solved before talks can advance, people familiar with the discussions said. A written offer on the financial settlement has already been drafted pending May's final approval, according to one of them. May's spokesman dismissed that on Monday as speculation.
With just six days to go until May sits down to dinner with European Commission President Jean-Claude Juncker in what is expected to be a key meeting, chief EU negotiator Michel Barnier goes to Berlin on Tuesday to meet German Chancellor Angela Merkel. 
Brexit Latest
Norwegian Bid | As it girds for the possibility that Britain and the EU won't reach a Brexit deal before the end of the year, Norway wants Barnier to acknowledge the special status of the U.K.'s biggest gas supplier. Scandinavia's richest country and western Europe's biggest oil and gas exporter is working hard to ensure it doesn't lose out in any EU-U.K. transitional accord. Norway provides about 40 percent of the U.K.'s energy needs, and is keen to defend its access to the EU's single market as a member of the European Economic Area, EU and EEA Affairs Minister Marit Berger Rosland said in an interview.
Corbyn Trumps Brexit | Morgan Stanley says the risk of a Corbyn government is greater than Brexit for U.K. equities, and a general election is likely in the second half of 2018.
Stressful| U.K. banks can survive a disorderly Brexit, the Bank of England said on Tuesday as it published the results of stress tests. It pitted banks against a 4.7 percent plunge in U.K. output, a 27 percent pound crash, and house prices falling by a third. "The stress-test scenario therefore encompasses a wide range of U.K. macroeconomic risks that could be associated with Brexit," the BOE said. 
Irish Crisis | The controversy engulfing the Irish government escalated, as the release of a cache of emails threatened to further undermine Deputy Prime Minister Frances Fitzgerald. She faces a no-confidence vote on Tuesday over her handling of a whistle blower controversy that could pull down the minority government and prompt an election next month.
Brexit Papers | Tuesday is the deadline for the government to publish its studies on the impact of Brexit on different parts of the U.K. economy. David Davis has been told he could be in contempt of parliament after his department heavily edited the papers before giving them to a parliamentary committee, the Guardian reports. Also in Parliament on Tuesday: Chancellor of the Exchequer Philip Hammond speaks and Europe Minister Alan Duncan will be quizzed on diplomatic relations with Europe post-Brexit.
Brexit Means Staycations | Brexit is proving a boon for companies that accommodate Brits holidaying at home. The number of trips abroad made by British people declined again in August, according to latest data from the Office for National Statistics, indicating a potential rise in "staycations" as a weaker pound influences travel plans. According to retailer Halfords Group, sales of camping equipment were the highest on record in the six months ended Sept. 29. Hoteliers are also benefiting: at Fuller Smith & Turner, which operates a chain of boutique inns, like-for-like accommodation sales were up 8 percent.
Resilient Gilts | Overseas appetite for U.K. government bonds should remain resilient in the face of Brexit uncertainty as investors seek high-quality and liquid assets in their portfolios, according to the country's debt office. Foreign investors have shown no sign of reducing their appetite for gilts since the referendum, Debt Management Office Chief Executive Robert Stheeman said.
And Finally...
For a look at how Brexit is affecting London startups, Bloomberg's Ed Robinson reports from the Ping Pong Fight Club. In a cavernous loft space in London's East End, anxiety about Brexit was an undercurrent at the table tennis tournament that has become a fixture of the startup scene. With the finalists being two IT professionals from Italy and Spain, the competition showcased a diverse industry that may be reshaped by changes to immigration polices after the split.
More than 30 percent of Funding Circle's London employees are non-British EU nationals and they have chafed at the message that their adopted country wants them to leave. 
"It isn't just that we're at risk of losing our engineering talent," James Meekings, Funding Circle's co-founder, says, half-jokingly. "We might lose our ping-pong stars as well."

For more on Brexit follow Bloomberg on Twitter, Facebook and Instagram
Before it's here, it's on the Bloomberg Terminal.
LEARN MORE