Balance of Power: Mexico Got the Short End of the Nafta Stick
By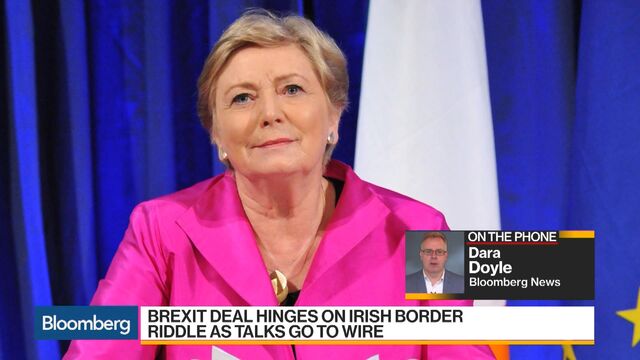 U.S. President Donald Trump gives the impression all of Nafta's benefits have flowed south of the Rio Grande. Mexicans might beg to differ.
As Eric Martin and Nacha Cattan report, Mexico's economic performance in the almost a quarter-century since the North American Free Trade Agreement took effect has been dismal — growth has been less than half the developing-world average and about the same as the U.S. and Canada. Its faster population expansion means Mexicans on average earn less than their peers across the borders than before Nafta.
That's fueled things Trump hates most: the flow of underpaid Mexican labor northwards and American factories the other way. No wonder, as Trump's trade team tries to renegotiate the accord, the U.S. president is threatening to blow it up altogether. And now Mexico worries Canadian Prime Minister Justin Trudeau may be ready to cut a bilateral deal with Trump, excluding Mexico.
Mexicans will have a chance to express their view in presidential elections next year. The early front-runner, leftist Andres Manuel Lopez Obrador, says he'll usher in a new economic model — the question is what role Nafta would play in that, if any.

Sign up to receive the Balance of Power newsletter in your inbox, and follow Bloomberg Politics on Twitter and Facebook for more.
Global Headlines
Just in | Kenyan President Uhuru Kenyatta was sworn in for a second term at a ceremony in Nairobi boycotted by the main opposition alliance after three months of electoral uncertainty that has unnerved investors in East Africa's biggest economy.
Irish drama | A deepening political scandal in Ireland threatens Brexit discussions at a critical stage. The issue of how to prevent a hard border between Northern Ireland and the mainland has become a major obstacle to a much-hoped for breakthrough in December. The U.K. government is constrained by its alliance with the Democratic Unionists, while the embattled Irish prime minister faces the prospect of new elections and is in no mood to compromise.
Senate tax deciders | Trump plans to meet today with Senate Republicans ahead of a possible floor vote on Republicans' tax plan later this week. The party's slim majority means they can afford to lose only two Republicans. Here's a look at eight most likely to decide the bill's fate.
Outrage in Beijing | A pair of controversies in the Chinese capital — the mass eviction of migrant workers and allegations of widespread abuse at local kindergartens — have exposed the challenges facing President Xi Jinping as he works to improve the country's quality of life while strengthening one-party rule. "China's haves and have-nots were both angered in the spate of a week," said Deng Yuwen, a public affairs commentator in Beijing.
Myanmar's regional support | A Thai company's $3 billion power-plant project in Myanmar shows how Asian investors remain undeterred by the violence that has sent more than 600,000 Rohingya Muslims fleeing the country since August. Asian businesses still dominate as the U.S. considers new sanctions over allegations of ``ethnic cleansing.'' With China seeking to resolve the crisis, observers are waiting to see whether Pope Francis weighs in on the controversy during a visit today.
Powell's message | Trump's nominee to head the Federal Reserve is making clear that he doesn't plan to shake things up at the central bank. In a statement to the Senate Banking Committee ahead of his confirmation hearing today, Jerome Powell signaled broad support for how the Fed operates, regulates and guides the economy, a stance that's likely to win him the support he needs to be confirmed.
And finally... Trump's habit of nicknaming political adversaries collided with his tendency to veer off script yesterday when he referred to Senator Elizabeth Warren as "Pocahontas" alongside three members of the Navajo tribe. White House press secretary Sarah Huckabee Sanders insisted the remark wasn't meant as a racial slur. But the comment and its context — he was standing in front of a portrait of President Andrew Jackson, who led military attacks on Native Americans — drew ire from Native American groups.

— With assistance by Kathleen Hunter, and Ben Holland
Before it's here, it's on the Bloomberg Terminal.
LEARN MORE