AT&T Made a Futile 11th-Hour Offer to Sway DOJ
By and
Last-ditch effort came three days before government suit

Stephenson, Delrahim talks broke down after less than an hour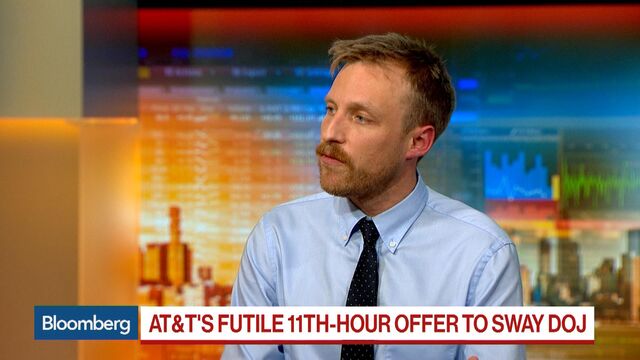 In an unsuccessful, last-ditch attempt to avert a lawsuit blocking its $85.4 billion Time Warner Inc. deal, AT&T Inc. Chief Executive Officer Randall Stephenson met Nov. 17 with the top U.S. antitrust enforcer to offer a proposal modified to address some of the Justice Department's concerns, according to people familiar with the matter.
The Justice Department sued the following business day. But the details of the meeting reveal what AT&T considered to be a serious, 11th-hour attempt to avoid a court case.
Stephenson's talks with Makan Delrahim, head of the Justice Department's antitrust division, broke down after less than an hour, the people said. The lawsuit was filed the following Monday, Nov. 20.
"As we've said previously, we have offered the Department of Justice a variety of solutions that are consistent with decades of precedent in vertical mergers, and we strongly believe that any divestiture of assets is not required under the law," David McAtee, AT&T's general counsel, said Tuesday in a statement. "And, of course, we have never offered to divest control of CNN."
The Justice Department declined to comment.
AT&T's effort to appease Washington underscores Stephenson's desire to salvage the deal and complete the company's transformation into a media powerhouse. But Delrahim has been pushing for significant divestitures, such as Time Warner's Turner cable division or AT&T's DirecTV satellite service, that go beyond what AT&T has been willing to offer.
Delrahim now plans to show in court that AT&T and Time Warner combined would hold too much power in the fast-changing media landscape. AT&T will defend the merger as a combination of two companies that don't compete with each other, arguing that together they will be able to offer advertisers a compelling alternative to Facebook Inc. and Google.
"This merger would greatly harm American consumers," Delrahim said when he announced the lawsuit. "It would mean higher monthly television bills and fewer of the new, emerging innovative options that consumers are beginning to enjoy."
Stephenson said the same day that the government's suit "stretches the very idea of antitrust law beyond the breaking point."
— With assistance by Sara Forden, and David McLaughlin
(
Corrects story from Nov. 28 to remove reference to Daniel Petrocelli's presence at the Justice Department meeting.
)
Quotes from this Article
Before it's here, it's on the Bloomberg Terminal.
LEARN MORE