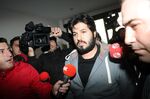 The trial in New York of Turkish banker Mehmet Hakan Atilla, who is accused of conspiring to evade U.S. sanctions on Iran, has been wreaking havoc on Turkey's markets, following efforts led by President Recep Tayyip Erdogan to scuttle the case. Many investors want to see what is revealed in that Manhattan courtroom before taking a risk on Turkey.
1. Why are investors paying close attention to the case?
They're looking for any clues that U.S. authorities will penalize Turkey or its banks. While there's been no indication of an intent to do so from the U.S., prosecutors are alleging that the scheme was devised by executives at state-run Halkbank -- formally, Turkiye Halk Bankasi AS -- and facilitated through the corruption and involvement of senior officials in Turkey's government. Bekir Bozdag, the Turkish government's spokesman, has fueled concerns by repeatedly saying that the case is an attempt to cripple Turkey's economy through the imposition of sanctions.
2. Who's been charged?
Only Atilla, a former deputy chief executive officer at Halkbank, will be on trial. Others including Turkey's former economy minister, Zafer Caglayan, and two other Halkbank executives have been charged in absentia. But at the center of the case is Reza Zarrab, a wealthy young Turkish-Iranian who established a network of businesses in Turkey and connections at the highest levels of its government. Lawyers for Atilla said in court Tuesday that Zarrab will testify for the prosecution and called him the "government's most important witness."
3. How have markets reacted?
The lira is the worst-performing major currency this year, losing 21 percent of its value against the euro and about half that against the dollar. It weakened 1.3 percent Tuesday. Yields on 10-year bonds have surged to new records above 13 percent. Not all of that is due to the trial, of course. Investors are worried about Turkey losing its anchor to the West as hostilities flare not only with the U.S. over this case, but also with Germany, other EU countries and NATO. The stock market has shrugged off concerns, rising 35 percent in lira terms this year. Among the worst performers, though, is Halkbank, up just 2 percent after losing about three-quarters of its market value since it was first implicated in a previous Turkish corruption probe in 2013, which was quashed. Investors are already treating Halkbank with supreme caution: it hasn't borrowed abroad via a syndicated loan or a bond sale in more than a year.
4. What are the implications for the Turkey-U.S. relationship?
The U.S. "anticipates that the evidence introduced at trial will show that Turkish government and banking officials were integral to the sanctions evasion scheme," according to an Oct. 30 document submitted to the court by federal prosecutors in New York. Embarrassing revelations of corruption or criminal activity are sure to further stress ties, already at their worst in recent history. Turkey blames Fethullah Gulen, an elderly Muslim cleric who's been based in the U.S. since 1999, for the 2016 coup attempt against Erdogan. President Donald Trump's first national security adviser, Michael Flynn, is said to be under investigation for allegedly plotting to seize Gulen and deliver him to Turkish officials. Further complicating the situation, Turkey hired two close allies of Trump -- former New York City Mayor Rudy Giuliani and former U.S. Attorney General Michael Mukasey -- to try to broker a resolution of the case that's reaching trial.
5. What to watch for at the trial?
Although the prosecution is only of Atilla, all eyes will be on Zarrab, who may start testifying Tuesday or Wednesday. The focus will be on whether he implicates Turkey's banking system or the highest levels of its government. U.S. government filings have said that he sought support from Erdogan, although the Turkish president is not accused of any wrongdoing. Turkish markets will be hanging on every word.
6. Could Trump intervene?
That's clearly been the hope of the Turkish side from the beginning. Fines or sanctions are imposed by OFAC, a division of the Treasury that reports to Trump's Treasury Secretary Steven Mnuchin. On Oct. 28, after a Turkish news report alleged that six Turkish banks were implicated in the case, Mnuchin denied that he'd warned Turkey about any sanctions. On Nov. 15, Turkish Deputy Prime Minister Mehmet Simsek said questions had been directed against only one bank and that no process was underway against the broader Turkish banking system. Trump and Erdogan last spoke on the phone on Nov. 24; after the call, neither side said that the Zarrab case was discussed.
The Reference Shelf
Before it's here, it's on the Bloomberg Terminal.
LEARN MORE