A Confusing Copper Strike in Peru Highlights Supply Uncertainty
By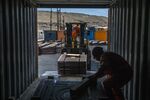 Mixed, and sometimes contradictory, messages from a copper strike in Peru show the challenge for investors to gauge the impact on supply. 
The strike by some Southern Copper Corp. workers entered a second week on Tuesday after the latest round of talks between the company and two unions failed Sunday. While both sides say they're willing to resolve the dispute, there's little they agree on.

For starters, the company says the strike is affecting about 25 percent of workers, but the two unions say they represent almost 70 percent of the workforce. And while Southern says it remains in conversations with union leaders, SUT-SPCC secretary general Aldo Rodriguez says there are no meetings scheduled in the next few hours.
It's also unclear where the strike is having the greatest impact. Unions have called on workers to focus on their headquarters in Ilo province, close to smelter and refinery operations. 
Train service to the smelter has been disrupted at least since last Wednesday, when protesters clashed with police, Rodriguez says. Yet Southern says some trains have been able to get through, the smelter is operating "normally" and the Ilo operations are "the least" affected by the strike.
Southern Copper is calling for labor authorities to declare the strike illegal. At the same time, unions are saying the strike will go on indefinitely, or until their demands are met.

The protests at Southern Copper highlight the supply risk posed by labor conflicts. In the rest of Peru, the world's second-largest copper producer, the Mining Federation is holding meetings across the country to weigh support for a general strike in January after the government failed to meet demands outlined after the latest stoppage in July. 
Neighboring Chile, the world's top producer of the metal, is facing conflicts of its own, with workers at BHP Billiton Ltd.'s Escondida mine downing tools for 24 hours last week after the company announced 120 job cuts. Wage negotiations are scheduled at some of Chile's biggest mines next year.
Before it's here, it's on the Bloomberg Terminal.
LEARN MORE