Your Evening Briefing
Here are today's top stories
Bloomberg News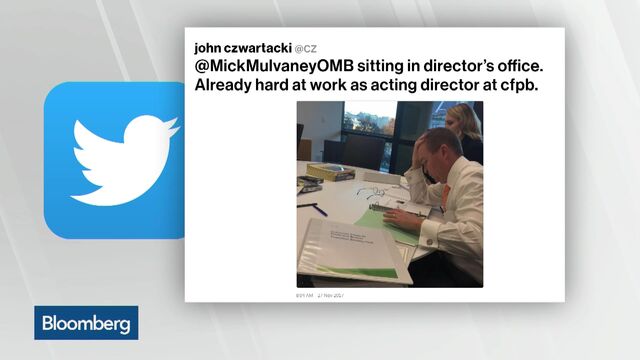 Want to receive this post in your inbox every afternoon? Sign up here.
The holiday season is off to a roaring start. Shoppers haven't disappointed on Cyber Monday, with preliminary figures on online spending in line to hit a forecasted $6.6 billion for the day. While the concept may seem a little outdated (it was created back in 2005, in the early days of the e-commerce boom), that hasn't stopped Amazon and Wal-Mart from enthusiastically competing for that cash with dueling deals.—Katie Robertson
The next act in the drama playing out over who runs the U.S. Consumer Financial Protection Bureau began with competing chiefs both asserting they were in charge. A federal judge might have to determine the finale. President Trump's pick, Mick Mulvaney, arrived at the bureau's Washington headquarters Monday morning carrying a bag of doughnuts, while Leandra English, chosen by outgoing CFPB director Richard Cordray, emailed staff identifying herself as acting director.
Bitcoin is headed for $10,000 just a week after topping $8,000, gaining mainstream market attention as it defies bubble warnings. The rally has seen individual investors open cryptocurrency accounts at a breakneck pace. Meanwhile, bitcoin bears are weighing their options. Shorting bitcoin is done mostly through unregulated exchanges, and is risky given the currency's volatility. But for those daring enough to try, there are ways to bet against its rise.
Tax-hike fears are triggering talk of an exodus from Manhattan and Greenwich. The problem for the Connecticut hedge-fund set—and, more broadly, for a lot of the Wall Street crowd—is that Republican proposals in both the House and Senate would drive up taxes for many high-earners in the New York City area. Goldman Sachs estimates that the city alone could lose as much as 4 percent of its top earners if the bill becomes law. Here's where the GOP tax plan stands right now.
The White House may ban employees from using personal mobile phones at work. Though President Trump has repeatedly complained about press leaks since taking office, administration officials told Bloomberg the proposed ban is driven by cybersecurity concerns. Some staff worry they'll be cut off from family and friends. The White House already takes precautions with personal wireless devices, requiring officials to leave phones in cubbies outside of meeting rooms where sensitive or classified information is discussed, for example.
This year's U.S. hurricane season was the most expensive ever, racking up $202.6 billion in damages since its formal start on June 1. While 2005 still holds the record for the most named storms, the intensity and dangerous paths of this year's tropical systems caught even seasoned forecasters off guard. For the first time in the records, three Category 4 storms hit U.S. shores.
This garbage startup is making money off your cigarette butts and flip-flops. In Tom Szaky's vision of the new economy, nothing is garbage. The founder of TerraCycle wants to make trash the star of a circular economy, where re-use is the norm. Inspired by the glass milk-bottle porch deliveries of yesteryear, he's creating a durable consumer-recycling system.
The fastest Corvette ever will roar into the Los Angeles Auto Show. More than 60 global and North American debuts will happen during the show in L.A. this week, with many focused on electrification and high-end SUVs. Corvette will introduce its fastest model to date, the new 2019 ZR1. The car has a supercharged, 755-horsepower V8 engine and will reach 210 mph, according to Chevrolet.

Before it's here, it's on the Bloomberg Terminal.
LEARN MORE