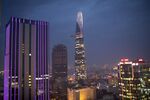 Four years ago, the Ho Chi Minh City Stock Exchange traded just $50 million of equities a day, while activity in Manila was five times as brisk. This year, Vietnam will overtake the Philippines.

It's a remarkable transformation for a "frustrating market, with a strong economy but low investability," as Dan Fineman and other Credit Suisse Group AG analysts aptly summarized it. So what explains the excitement? 
Three things. One, the economy has improved markedly. The banking system, burdened with the highest soured debt in Southeast Asia in 2012, is both a lot cleaner now, and growing rapidly again. Saigon-Hanoi Commercial Joint Stock Bank, one of the smaller listed lenders, has managed to push down its nonperforming asset ratio to 1.4 percent, from 5 percent in mid-2013. Its loan book has gone from less than $5 billion then to almost $12 billion. 
Second, Vietnam's communist authorities are serious about privatization. Earlier this month, the State Capital Investment Commission auctioned a 3.33 percent stake in Vietnam Dairy Products JSC to a unit of Jardine Matheson Holdings Ltd. The Singapore-listed conglomerate has already built a 10 percent holding in Vinamilk, as the company is known, and wants to buy more. State-owned Saigon Beer Alcohol Beverage Corp., or Sabeco, is also on the block, with the government holding a roadshow in Singapore last week, looking to offload a majority stake in the brewer. 

Finally, Vietnam has plugged into the Asian electronics and smartphone supply chain. The country's No.1 export isn't textiles, shoes, seafood, coffee or cashew nuts, but smartphone parts, which have jumped 29 percent this year to $36.5 billion. One of Credit Suisse's top investment picks is Kinh Bac City Development Share Holding Corp., an industrial park player that counts LG Electronics Inc., Canon Inc. and Foxconn Technology Co. as customers.
A strengthening global economy may lift many Asian boats, and markets like Singapore, Thailand, Indonesia and the Philippines might offer investors bigger opportunities. Still, Vietnam's $3.3 billion in initial share sales over the past year -- including by mall operator Vincom Retail JSC, whose shares are up 26 percent in less than a month -- make it the third-busiest IPO market in Southeast Asia after Singapore and Malaysia. 1  A $300 million IPO by Ho Chi Minh City Housing Development Commercial Joint-Stock Bank could close before the end of this year.
To that frenzy, add a near-12 percent increase in foreign direct investment to $16 billion. At 8 percent of its $203 billion GDP, that figure isn't to be scoffed at. Vietnam's ability to make increasingly more sophisticated things -- and for the country of 96 million people to create a sizable middle class -- are both expanding.
Something similar is taking place in financial markets, too. Credit Suisse analysts estimate that there are now 12 stocks with volumes of $3 million a day where foreign investment limits haven't been reached. In 2015, there were only or or two.
Vietnam can no longer be written off as marginal.
Before it's here, it's on the Bloomberg Terminal.
LEARN MORE