Venezuela's Maduro Has Staying Power and That's OK to Bulls
By
Nation's bonds have fallen 27% since Maduro's debt speech

Maduro using market chaos to his advantage, Stone Harbor says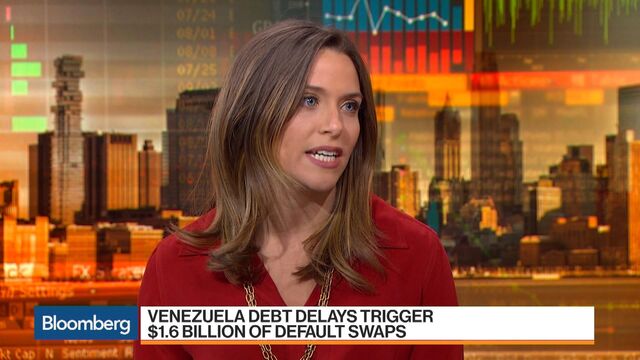 Some investors in Venezuelan debt are becoming more convinced that socialist leader Nicolas Maduro will stick around Miraflores Palace a good while longer as the U.S. sanctions that pushed him toward default do little to damage his political standing at home.
With opposition parties in disarray, Maduro should be able to win re-election next year, according to money managers and strategists including Stone Harbor Investment Partners and JPMorgan Chase & Co. That may be a good thing for investors in the shortest-term debt, as he's seen as far more likely than any potential replacement to make payments at least through 2018, even as foreign reserves dwindle.
"He could win democratic elections and then go back to the international community and say, 'I was elected by the Venezuelan people. You have to respect me,"' said Ray Zucaro, chief investment officer at Miami-based RVX Asset Management, who holds Venezuelan debt. "I don't think this is his end."
These investors' outlooks go against conventional wisdom that the best scenario for Venezuela bondholders would be new leadership that could restructure the country's $60 billion of overseas notes and overhaul the economy to promote growth. Normally, a nation facing a cash crunch, quadruple-digit inflation and shortages of affordable food and medicine would go the route of Ukraine or Greece in seeking a bailout from the International Monetary Fund.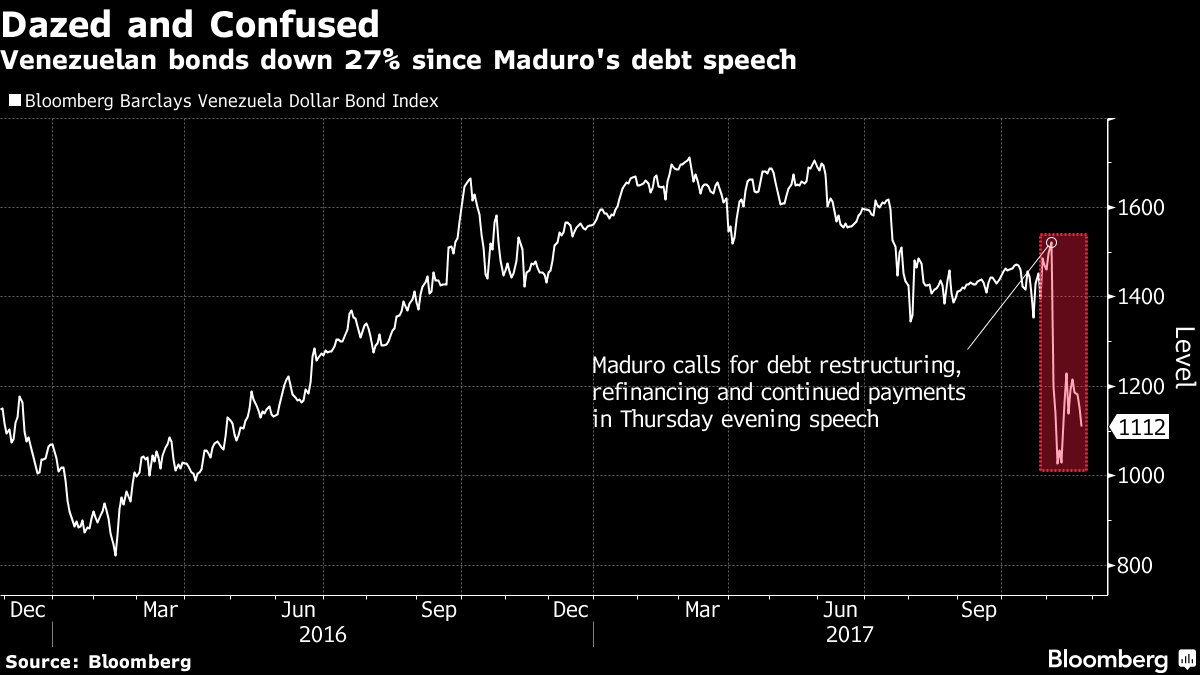 But multilateral lenders that would demand economic reforms are anathema to Maduro and his allies, many of whom are subject to U.S. sanctions amid accusations of corruption and rights violations, and those limitations mean it would be nearly impossible to pull off a debt restructuring. That's forced Maduro to pursue an unorthodox strategy of continuing to service debt, even as a lack of dollars causes shortages of affordable food and medicine for the Venezuelan people. Benchmark government bonds due in 2027 traded at about 25 cents on the dollar as of 10:39 a.m. in New York, showing investors' are skeptical he can continue to pay over the long term.
Dismissed by some as inept when he called for a debt restructuring, refinancing and continued bond payments all in the same speech earlier this month, the president has actually played the politics of debt talks "quite elegantly," Hans Humes, the chief executive officer of Greylock Capital Management, said on Bloomberg TV earlier this month. Venezuela's leader has called on supporters to rally behind him as he put the blame for any payment hiccups on financial hitmen out to get him and U.S. sanctions imposed by the Trump administration, which is deeply unpopular in most of Latin America.
"We've underestimated Maduro," Humes said. "A couple years ago, everybody thought he was a knucklehead. This guy is good at the game. He's kept the opposition splintered, he's won elections."
With overdue bond payments totaling $1.5 billion, the Venezuelan government has blamed intermediary banks for "financial sabotage." So far, creditors have been patient and refrained from accelerating payments on overdue debt. While its securities have posted the world's biggest losses this year, Venezuela has enriched fund managers over the past several decades under two successive socialist governments that seemed willing to honor their debt at all costs.
In a speech last week, Maduro said that Euroclear, the Belgium-based clearinghouse, had "kidnapped" $450 million in bond funds meant to pay for food and medicine back home.
Maduro is skillful at using Venezuela's financial struggles to undermine opponents, according to Stuart Sclater-Booth, a money manager at Stone Harbor in New York, who has marginal exposure to the nation's debt.
"This chaos in the bond market plays to his political advantage when he can blame it on the U.S. and the opposition," he said. "He's got a villain and so far he's outplaying them."
More than 61 percent of Venezuelans oppose U.S. financial sanctions, according to an October poll by the Caracas-based consultancy Datanalisis. That was a 9.8 point increase from the prior month. While Maduro's approval rating is just 23 percent, his allies won a surprise victory in regional elections last month as the opposition cried fraud.
That's supporting the idea he can squeak out an election victory once a date for next year's vote is set. The political opposition has been hampered by infighting, while the two most competitive candidates, Leopoldo Lopez and Henrique Capriles, have been jailed and banned from office respectively.
Unless the opposition can pressure Maduro into election rules that would help them compete, the "prospects for Maduro to cling to power indefinitely will rise," JPMorgan analyst Ben Ramsey wrote in a note last week.
Before it's here, it's on the Bloomberg Terminal.
LEARN MORE