Another Hotel Moves to Strip Away Trump's Name
By
Hotels in NYC, Toronto already moved to strip Trump brand

Room prices at Trump properties mostly tumbled since January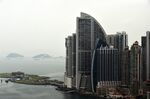 The Trump Organization said its luxury hotel in Panama is legally required to keep the Trump brand following an Associated Press report that the 70-story building's owners are trying to remove it, the third such effort this year.
"Not only do we have a valid, binding and enforceable long-term management agreement, but any suggestion that the hotel is not performing up to expectations is belied by the actual facts," the Trump Organization said Monday in a statement. The hotel has outperformed the market in the past three years, and did as much as 37 percent better than its competitors in September, the company said.
Data gathered by outside researchers tell the opposite story. FairFx, a London-based provider of travel-currency services that has measured Trump room rates since President Donald Trump's inauguration, said Nov. 20 that prices at the Panama hotel fell 32 percent since January.
Trump's divisive rhetoric has hurt patronage of his hotels in politically liberal New York and elsewhere. Since June, owners have moved to strip the Trump name from hotels in Toronto and New York's SoHo neighborhood.
The Panama property, which resembles a wind-filled sail, was Trump's first hotel-condominium project outside the U.S. The firm pulled out of a Rio de Janeiro hotel project last December after a Brazilian prosecutor began investigating whether pension fund managers were bribed to put money into commercial projects, including Trump's.
The Trump Organization received between $100,000 and $1 million in royalties for the Panama property during the 15 1/2 months ended in April, according to financial disclosures filed with the U.S. government.
— With assistance by Caleb Melby
Before it's here, it's on the Bloomberg Terminal.
LEARN MORE