Firebrand Brazilian Candidate Calls for Subsidized Gun Ownership
By , , and
Ex Army Captain Jair Bolsonaro running second in opinion polls

Magazine 'Veja' hosts likely 2018 presidential candidates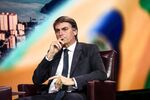 Gun ownership should be subsidized, police investigated less, and taxes slashed, Brazilian presidential candidate Jair Bolsonaro said at an event in Sao Paulo that marked the unofficial start of the 2018 campaign.
The ex-army captain was one of a handful of possible candidates hosted by the 'Veja' news magazine that also included Sao Paulo governor Geraldo Alckmin, environmentalist Marina Silva, Sao Paulo mayor Joao Doria and TV presenter Luciano Huck, who ruled out running on Monday. Notably absent was the current leader in opinion polls, leftist former president Luiz Inacio Lula da Silva, who declined an invitation, according to the press office of Veja.
After two years of devastating recession and a seemingly never-ending corruption scandal, Brazilians disillusioned with traditional politicians are desperately seeking someone to put their nation back on track. With much of the political establishment tainted by graft, and the outcome of next year's elections deeply unclear, local analysts have talked up the possibility of outsider candidates finding success. But with Huck, Doria and Judge Sergio Moro, the anti-corruption crusader, distancing themselves from a bid for the top job, the field of non-traditional types is starting to narrow.
That strengthens the chances of a centrist, more market-friendly candidate, said Finance Minister Henrique Meirelles who spoke to Bloomberg News before speaking at the Veja event.
Still, Bolsonaro has grown in the polls and built up a loyal following despite his 26 years in the Chamber of Deputies. His hard-line stance on law and order is a major concern in a country with almost 60,000 murders last year alone.
The army reservist said that if elected president he would hand over control of the defense ministry to the military, a move that would raise eyebrows in a country that only emerged from dictatorship in 1985. "What's the point in governing, if not to be radical?" he said.
Other possible candidates were more circumspect about their ambitions.
Meirelles told Bloomberg that he would decide whether to run by March next year, adding that he believed there was room in the race for a centrist candidate. "There's a large amount of radicalization, with two extremes consolidating their positions," he said. "Unlike previous elections, that opens a large field in the center."
Geraldo Alckmin -- the most viable centrist candidate for the presidency at this moment, according to Carlos Melo, a political scientist and professor at Insper -- spoke in favor of privatization and removing Brazil's "elephant-sized state" from the backs of employers and employees.
Doria, Alckmin's political protege and, like his mentor, a member of the Brazilian Social Democracy Party, said that he would align himself with a centrist candidate in 2018. He added that if Alckmin became the party's presidential pick, there was "no chance" he would oppose him.
Marina Silva, who came third in 2014, said the results of the last elections were fraudulent as the main candidates are under investigation. She said that she would make a decision on whether to run next year before Carnival.

Current polls showing candidates from opposite ends of the political spectrum in the lead may be a poor indication of what to expect in next October's race. For one, Lula could be barred from running if an appeals court upholds his conviction on corruption charges.
Also, voter preferences are still in flux and won't really take shape until August of next year, said Marcia Cavallari, chief executive of Ibope. Nearly one-third of the voters want to vote in a new candidate from outside of politics, she said.  
While the economy has shown signs of recovery, negative headlines on crime and corruption continue to dominate daily news reports, particularly from Rio de Janeiro. The state's last three elected governors and four state assembly chiefs are now in prison on corruption charges. The current governor faces allegations of bribe-taking. Meanwhile delays of civil servant salaries have been fueling on-and-off street protests for over a year.
Economic recovery could play in favor of market-friendly, centrist hopefuls such as Meirelles, and undermine left or right extremists, according to Ricardo Ribeiro, political analyst at MCB Consultores Associados.
Among 211 investors surveyed by XP Investimentos, a Sao Paulo-based investment bank, nearly half thought Alckmin would win next year's election, followed by Huck and Bolsonaro. Lula would be most disruptive to financial markets, prompting the Sao Paulo stock exchange to drop 23 percent and the real to plummet at least 20 percent, according to a majority in the survey distributed last week.
Before it's here, it's on the Bloomberg Terminal.
LEARN MORE