Pemex CEO Becomes Mexico's Finance Minister
By
Carlos Trevino to be oil giant's third CEO of administration

Anaya tenure marked by some improved returns, lower oil output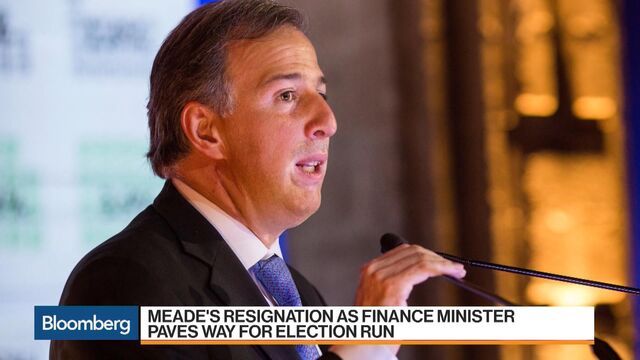 Like his predecessors, Jose Antonio Gonzalez Anaya didn't last long as chief executive officer of Petroleos Mexicanos.

Less than two years after being named to lead the state-owned energy company, Gonzalez Anaya will become Mexico's finance minister, the presidential offices announced Monday. He succeeds Jose Antonio Meade, who announced plans to run for president. Carlos Trevino, Pemex's chief administration officer, will become CEO.
The move follows months of speculation that Gonzalez Anaya, a former deputy finance minister, would gain a top economic post in the government. While at Pemex, he implemented a five-year plan to stabilize its finances through asset sales, job cuts and production partnerships. Responsibility for that plan now shifts to Trevino, the third CEO in two years, who worked with his predecessor to develop the strategy.
"Pemex continues to be run more like a ministry than an oil company," said Tim Samples, a law professor and Mexican-energy analyst at the University of Georgia in Athens. "The CEO position is like a stopping point to collect a few new bullet points on your CV before moving on to your next ministry. It continues to be a quasi-political job."

Trevino's stint as Pemex head is likely be short-lived. Mexico will hold presidential elections in July and inaugurate a new administration in December 2018. The Pemex CEO - like a cabinet minister - has changed in each of the last four election cycles dating back to 1994.
Pemex is Mexico's largest company and accounts for roughly a fifth of its public budget.
As CEO, Trevino "should continue and deepen the instructions that were given" by Gonzalez Anaya, President Enrique Pena Nieto said at the announcement in Mexico City. Trevino's mandate includes "strengthening the finances and boosting the productivity of the company" while "taking maximum advantage of the opportunities that are offered by Pemex by the energy reform," Pena Nieto said.

Trevino is no stranger to Pemex or its financial operations. He was briefly its chief financial officer, and served as chief administration officer from 2010-2012 during the administration of then-CEO Juan Jose Suarez Coppel. Prior to his return to Pemex last year, Trevino worked alongside Gonzalez Anaya as the CFO for the Mexican Social Security Institute.
"No matter who wins the elections you will get a new CEO at Pemex next year because the new administration is going to want to appoint their guy," Duncan Wood, director of the Mexico Institute at the Woodrow Wilson International Center for Scholars in Washington, said by phone. "It will be a maximum appointment of one year where the best you can hope for is to continue with Gonzalez Anaya's plans and not screw things up."
See also: Mexico finance minister quits; Pemex CEO steps up.
Gonzalez Anaya, known by many as Pepe Tono, was director of Mexico's Social Security Institute prior to moving to Pemex. His move to finance minister is his highest ranking government position to date and a sign of his rising political profile within the Institutional Revolutionary Party.
The Harvard-educated economist leaves Pemex in a better position than when he took the job in February 2016. Gonzalez Anaya was given a mandate from Pena Nieto to strengthen the company's financial standing and accelerate the transformation of Pemex to take advantage of the country's energy industry reform.
He has largely done that, recording three consecutive quarterly profits following a four-year stretch of losses, and forming oil-exploration partnerships with Chevron Corp., BHP Billiton Ltd and Ecopetrol SA, among others.
"It demonstrates the lack of importance that the government gives to Pemex," said Adrian Lajous, Pemex's CEO from 1994-1999, in a phone interview from New York. "It is sad to see him leave."
Production Drop
At the same time, Gonzalez Anaya wasn't able to solve all of Pemex's problems.
Crude production has plunged, hitting its lowest levels since at least 1980 in September. Meanwhile, Pemex's ailing refineries have been plagued by accidents and inefficiencies, costing the company billions in annual losses. Gonzalez Anaya had hoped to land major refinery partners during his administration, by they never materialized.
Even with the improved financial results during the first half of the year, Pemex, ravaged by natural disasters, reported a $5.3 billion loss in the third quarter.
Still, Gonzalez Anaya was able to stabilize the company's near $100 billion in debt, an effort recognized by rating companies Fitch and Standard & Poor's, both of which revised their outlooks for Pemex to stable from negative earlier this year.
Gonzalez Anaya "has a reputation for fixing problems in a methodological way, and that's exactly what he was able to do at Pemex," Wood said. "He did a good job. It would have been nice to see him stay in the position until the next administration."
Before it's here, it's on the Bloomberg Terminal.
LEARN MORE