Patent 'Death Squad' Pitting Tech and Pharma Heads to Supreme Court
By
Constitutionality of patent office reviews to be heard Monday

U.S. created review as low-cost alternative to lawsuits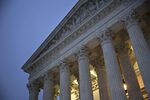 Tech companies like Google and Apple Inc. cheered in 2011 when Congress created a review system for deciding whether the federal agency that issues patents is getting it wrong.
Thousands of invalidated patents later, the Supreme Court is considering whether Congress got it wrong.
The high court hears arguments Monday on whether to put a halt to a system that lets companies go to the U.S. Patent and Trademark Office to challenge patents rather than relying only on courts. It's designed to be a low-cost alternative to lawsuits, and the review system is popular with tech companies and retailers that get sued often by patent owners.
Critics call the review board a "death squad" because it uses a different legal standard than courts and is more likely to cancel a patent. Drugmakers such as AbbVie Inc., which rely on patents to fend off competitors, say the system violates their constitutional right to a jury trial.
"The pendulum has recently swung against patent owners at the Supreme Court," said Christopher Loh, a patent lawyer with Fitzpatrick, Cella, Harper & Scinto who often represents drugmakers. "There's growing sentiment that the uncertainty in the patent world is leading to a global lack of competitiveness."

"Once the patent is issued, is it a public right that the government can revoke, or a private right that only a federal court can revoke?" said Loh. "It's a tough, tough issue."
The review process was created as part of a sweeping overhaul of the patent system signed by President Barack Obama in 2011. It allows expert administrative judges to examine patents and decide whether they're valid, in a process that's much quicker than a lawsuit in federal court.
"If you believe it's private property and you believe in a jury system, it's hard to have a government agency take that away," said patent lawyer Wayne Stacy of Baker Botts. "Others say it's a government agency fixing its mistakes."
Where a company stands on the issue depends on whether it owns patents and collects royalties -- or whether it mostly pays royalties to other companies and could gain by getting those patents thrown out.
Automakers, General Electric Co. and makers of golfing equipment support the review system because they're more likely to be pursued by patent owners for royalties.
Fending Off Competitors
Opposing the review system are companies that rely on patents to fend off competitors, including drugmaker AbbVie, and coin-sorting maker Cummins-Allison Corp. Also opposed are mobile-technology design firms like InterDigital Inc. that get their revenue from royalties.
The case before the Supreme Court involves a patent owned by Oil States International Inc. for an apparatus that protects wellhead equipment from pressure caused by hydraulic fracturing, known as fracking. In 2012, it filed a patent-infringement claim in federal court against Greene's Energy Group LLC, which took the matter to the patent review system and won.
Oil States noted that the court had earlier interpreted the patent differently. "Congress may not remove cases from the federal courts because it does not like their judgments," the company said in court papers.

Defendants in patent suits can save millions of dollars by getting the review board to consider a case. It costs about $350,000 in legal bills for a proceeding before the Patent Trial and Appeal Board, compared with $3 million in district court, Apple said in a legal filing supporting the reviews.
The benefit is that errors in interpreting a patent can be fixed by "the very agency that issued the patent in the first place," Apple said.
For patent owners, the issue isn't the cost but a matter of fairness, critics say. Patents that have gone through the application process are presumed to be valid, and the high rate of invalidity rulings from the patent board upends that expectation and lowers the value of a patent.
'Uphill Battle'
"In the uphill battle of innovation, patents level the playing field for upstarts against their better-armed competitors, and are key to inducing others to take chances on new ideas," a group that included investors, small companies and independent inventors said in court papers.
In many ways, the review board is a victim of its own success. Congress first created procedures to allow reviews in the 1980s, but they were burdensome and time-consuming. Courts tended to ignore them because a lawsuit usually had been ruled on before the patent office issued a decision.
Tech companies bombarded by lawsuits from patent-licensing firms demanded a more streamlined system to weed out patents of questionable validity. They said the patent office was too lax in issuing software patents and needed to redress its errors. The Patent Trial and Appeal Board was born.
The patent office expected just a few hundred cases. Instead, more than 7,600 petitions were filed between September 2012 and Oct. 31, 2017, according to the patent office, making it the most popular forum for patent disputes.
Cardboard Coffins
While most of the cases still involve computer hardware and software, the system is used by pretty much anyone in a patent fight. Reviews have involved makers of toddler training pants, windshield wipers and even cardboard coffins.
The drug industry is one of the most vocal critics, saying the system interferes with courts' established role in determining when generic drugs will enter the market. Allergan Plc even transferred ownership of some of its patents to an Indian tribe in an effort to keep them from being reviewed at the agency.
A second case being argued before the Supreme Court on Monday asks whether the patent review board can consider only some of the challenged elements of a patent. That dispute would be moot if the justices rule the whole system is unconstitutional.
While the administration will argue in defense of the administrative reviews, Justice Neil Gorsuch -- the man President Donald Trump nominated for the high court -- is perceived to be a vote against the agency.
"We all know Gorsuch is not a fan of administrative overreach," said Loh. "The real unknown is how the other justices think of this issue."
The cases are Oil States Energy Services LLC v. Greene's Energy Group LLC, 16-712, and SAS Institute Inc. v Matal, 16-969.
Before it's here, it's on the Bloomberg Terminal.
LEARN MORE