L&T Sees March Date for Asset Sales to Fuel IT Buying Spree
By and
Company will continue divesting its non-core businesses: CFO

Looking at $20 million to $100 million Silicon Valley deals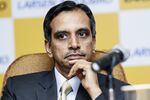 Larsen & Toubro Ltd., India's largest engineering and construction group, said it expects to sell its electrical unit and spin out its road assets trust by March 2018, a sign funding for plans to acquire more companies in information technology will soon be in place.
Schneider Electric SE is in exclusive talks to buy the electrical unit, valuing it at around $2 billion, people familiar with the matter said last week. Due diligence is underway, as are talks with investors on an initial public offering for some road assets, Larsen Chief Financial Officer R. Shankar Raman said in a Nov. 20 interview.
The airports-to-submarines maker has been pruning non-strategic and sub-scale businesses under a plan to spur growth through acquisitions in information technology, where margins are higher. The push into IT is urgent, said Raman, as Larsen must contend with bigger, more entrenched rivals including Tata Consultancy Services Ltd. and Infosys Ltd.
"We don't have time on our side and we need to jump start for bridging the gap," Raman said. "Acquisitions would be one of the ways to do that." He declined to identify any deal targets, though he said the company is looking to buy businesses that can't scale up on their own.
Silicon Valley
The firm is looking in Silicon Valley and India for deals valued at between $20 million and $100 million, Raman said. "Whether it is analytics, mobility, cloud or artificial intelligence, they are all opportunities for us to draw closer to larger peers," he said.
The L&T Technology unit acquired U.S.-based Esencia Technologies Inc. in June for $27 million, it said in a filing. Earlier this month, the L&T Infotech unit said it plans to acquire Luxembourg-headquartered Syncordis SA for 15 million euros ($18 million).
"Focus on new age technology acquisitions is a good idea," said Rohit Natarajan, an analyst with IDBI Capital Markets & Securities Ltd. who has an 'accumulate' rating on the stock. The needle on Larsen's return-on-equity, a measure of profitability, will only move if its acquisitions are large enough, he addd.
Larsen's return on common equity was at 12.8 percent in the year ended March 2017, from around 10 percent in the previous financial year and 19.4 percent in the 12 months through March 2011, data compiled by Bloomberg show. In comparison, returns for Larsen & Toubro Infotech Ltd. and L&T Technology Services Ltd. -- both listed last year -- were at 37 percent and 46 percent in the year to March.

"If we are successful in unlocking capital in the parent company, then we'd like to invest in areas which enhance L&T's ROE," said Raman.
In October, the company sold its unlisted arm EWAC Alloys to U.K.-based ESAB Holdings Ltd. for $80 million and in August it sold a cutting tool unit to IMC International Metalworking Companies BV, an arm of Berkshire Hathway, for $27 million. There are also some machinery manufacturing businesses that could be considered for divestment, Raman said.
There isn't yet agreement between Larsen and Schneider on the terms of a deal for the electric unit, and there's no certainty the negotiations will lead to a transaction, people with knowledge of the matter said last week.
Larsen's shares fell 0.9 percent as of 9:39 a.m. Tuesday in Mumbai and have climbed 35 percent this year, compared with a 26 percent advance in the benchmark S&P BSE Sensex Index.
"The reason we are stepping out of these profitable but sub-scale businesses is that we don't see them becoming a billion-dollar-plus revenue generating businesses," said Raman. "We just want to conserve the time and management attention that goes into such businesses."
Before it's here, it's on the Bloomberg Terminal.
LEARN MORE