Irish Focus Turns Back to Brexit as Political Impasse Broken
By
Deputy leader says resigning is in the national interest

Government can now prepare for crunch Brexit summit next month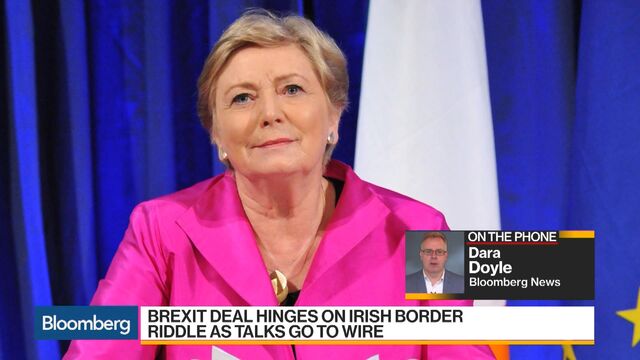 Ireland averted an election that could have derailed crucial Brexit talks with the U.K., as Deputy Prime Minister Frances Fitzgerald agreed to resign and end a five-day political stand-off.
Fitzgerald stood down over her handling of a police whistle blower controversy, amid mounting pressure for her to go to avoid an election campaign that would have run in parallel with a key meeting of European Union leaders next month on the terms of Britain's exit from the EU.
"Throughout my career I have always sought to act with integrity and responsibility, " she said on Tuesday. "That is why I have decided on this occasion to put the national interest ahead of my own personal reputation."
Irish Prime Minister Leo Varadkar has been under intensifying pressure to bring an end to the political mess ahead of crucial Brexit negotiations with the U.K., the country's neighbor and one of its largest trading partners. Opposition party Fianna Fail confirmed the party will drop a no-confidence vote scheduled for Tuesday in Dublin in Fitzgerald.
Until this morning, Varadkar and his most senior colleagues publicly stood by Fitzgerald, who denied any wrongdoing. Signs emerged, though, that government lawmakers and their allies were beginning to break ranks amid concern the controversy was spiraling out of control.
Email Controversy
The episode centered on how much Fitzgerald may have known about a potential legal strategy to discredit a police whistle blower. A series of emails showed that while justice minister, Fitzgerald was informed of a plan by lawyers to raise questions over the whistle blower's integrity by bringing up allegations that proved to be false.
At first, Fitzgerald said she didn't remember the email. As more details came to light, she maintained that she couldn't have interfered in the affair anyway, as the government had set up an independent inquiry into how the whistle blower had been treated.
"I have always believed in due process and I believe that in the current situation that is becoming increasingly difficult for me," she said today. "I acted correctly in difficult circumstances and, in fact, did everything that I could to support the search for truth and protect whistle blowers. "
Hard Border
The end of the controversy means the government can focus on next month's meeting of European leaders. Avoiding a so-called hard border between the U.K. province of Northern Ireland and the Republic of Ireland is one of three key issues requiring "sufficient progress" before the EU will allow talks to move on to Britain's future relationship with the bloc.
In the middle of an election campaign, Varadkar may have been less willing to make concessions on the Northern Irish border issue.
Read More: Why Ireland's Border Is Brexit's Stubborn Puzzle
Ireland is backed by the rest of the EU in wanting written assurances that the U.K.'s withdrawal from the bloc's customs union and single market won't lead to a return of checkpoints that would stir memories of decades of violence between Catholic and Protestant groups.
Irish bonds outperformed their European peers in the short-end of the yield curve following the deputy prime minister's resignation. The country's debt trades nearer that of core European countries, such as Germany, than its peripheral peers amid an improving economic picture.
— With assistance by John Ainger
Before it's here, it's on the Bloomberg Terminal.
LEARN MORE