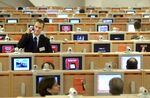 The last few weeks have been a bloodbath for several digital media companies. The blame fell on the usual suspects: Google and Facebook are commanding more of people's attention and advertising dollars, which leaves little room for anyone else. This is true, but it's also not the complete picture.
The reality is that there's no single villain, nor a magic formula for success in a world in which the internet and smartphones changed everything. Media companies young and old are still coming to terms with this reality and must brace themselves for the possibility that they may fail even if they do everything right. 

Here's a snapshot of the recent digital media bloodbath: Onetime darling Mashable sold for a pittance, and more sales are likely coming. Spanish-language television titan Univision Communications Inc. is looking to sell a slice of the online media empire it assembled just last year. Billionaire Joe Ricketts abruptly shut his local news websites in New York, Chicago and other cities. Verizon Communications Inc. is firing hundreds of people from the company it cobbled together in acquisitions of Yahoo and AOL. Two muscular and richly valued young news organizations, BuzzFeed Inc. and Vice Media Inc., aren't pulling in as much revenue as they expected this year. 
It's not a pretty picture. But it's also a complex one. It's true that a growing share of the population is digesting news and entertainment digitally. A survey this summer by the Pew Research Center found that about two-thirds of U.S. adults get their news at least some of the time from social media. Young Americans are watching far less TV than older ones, but they devour TV programming online and other digital videos. 
The people are online, but the spoils are distributed unevenly. Google parent company Alphabet Inc. and Facebook Inc. collectively have a global audience in the billions, and many of them are hanging out there instead of watching TV, reading newspapers or scouring other companies' media and entertainment websites.

Those two technology giants also grab about two-thirds of all U.S. digital advertising spending, according to research firm eMarketer. That commanding share is due both to Google and Facebook's hold on people's attention and to their sophisticated technology that hits on the right mix of advertising volume, performance and prices. Almost no other companies can match their digital expertise. 
For everyone else, the road is tough but in different ways. The pain in digital media of late falls into at least three distinct categories. BuzzFeed and Vice are building substantial businesses but most likely took on too much investment money, which ratcheted up the pressure to deliver big revenue that might not be sustainable.
Mashable is among the companies that for a variety of reasons are losing readers and may never get them back. And the third category is reliance on a billionaire owner. Sometimes it works out, as appears to be the case with Amazon CEO Jeff Bezos's ownership of the Washington Post. And sometimes, as in the case of Ricketts, fickle rich people decide they don't want to be in journalism anymore. 
What's the fix? There is none. Sorry. Digital media upstarts are trying to rely less on advertising and charge readers for subscriptions or make money in other ways such as hosting events, licensing their programming to TV or movie companies and referring people to products in return for a finder's fee. 
These tactics all make sense for young digital media companies, but they're also incredibly difficult to pull off and not a panacea. The best approach is to have a coherent strategy, make money from multiple sources, minimize costs and lower expectations. And even if companies do all these things, they still may not survive. 
Digital media companies aren't the only ones casting about for survival strategies. Traditional media companies have a tough slog, too. And nearly every industry is learning that business models are breaking, and it's not easy to put them back together.
Sure, old-school retailers can sell stuff online just as they did in stores, but those sales come at lower profits. Traditional media and entertainment companies can put their news articles and TV shows online, but they may draw smaller revenue than they did in the days when a handful of TV stations and newspapers dominated people's time and money. 
There is no silver bullet for what the internet and smartphones have destroyed. There will be sustainable business models carved -- painfully -- from the new media landscape. But even the winners will most likely have to do more with less. 
Before it's here, it's on the Bloomberg Terminal.
LEARN MORE