The Big Banks Still Like Asian Equities
By and
Asia, Emerging market stocks to double in next 2 years: BofAML

Developing economies' momentum will offset Fed tightening: CS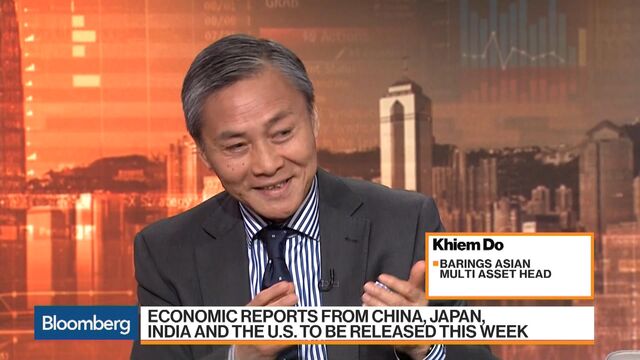 As the 2018 market-strategy notes roll in from banks' research teams, one call that stands out prominently is further gains in Asian equities, which have already this month hit record highs.
The thinking is that the region's world-beating economic growth rates will be sufficient to keep up earnings momentum in a year that's projected to feature a roll-back in monetary stimulus by the world's main central banks.
"We maintain our bullish view into 2018 and expect Asian (and EM) equities to double in the next two years," Bank of America Merrill Lynch strategists wrote on Monday, in one of the most bullish takes on the year ahead. The gains will be driven by "strong" earnings growth and a "re-rating" of investors' views on appropriate valuations, they wrote.
Morgan Stanley, however, is barely in the bullish camp. Asian stocks retreated from Friday's record after analysts at the bank downgraded Samsung Electronics Co. and Taiwan Semiconductor Manufacturing Co., saying their shares had risen too much. Strategists led by Jonathan Garner downgraded Japan to equal-weight and South Korea to underweight, while having an overweight stance on China, India and Japan. The regional equity benchmark index fell 0.6 percent Monday as of 2:54 p.m. in Hong Kong.
The MSCI Asia Pacific Index, up about 28 percent for the year so far, is now headed for its best annual gain since 2009. A number of analysts see outperformance by emerging markets more broadly, with bets on China among popular calls for 2018 even as that country moves to rein in credit growth.
Here's a selection from recent outlooks:
Bank of America Merrill Lynch (Ajay Kapur)
Asia and emerging-market equities are expected to double in the next two years
Earnings of about 20 percent expected next year and total returns could be around 30 percent
New lending boom in the next few years is quite likely for emerging markets, except China, after previous "famine" in most markets
Overweight on Japan, South Korea, Taiwan and China
Underweight on India, Malaysia and the Philippines
UBS Group AG (Geoffrey Dennis)
Emerging markets growth may rise slightly to 4.2 percent in 2018 from 4 percent even as global growth slows
Strongest rebound in returns seen in staples, information technology, materials and energy sectors, aided by rising commodities prices and lower U.S. dollar
Sees accelerated 2018 gross domestic product growth in India at 7.4 percent and slower growth in China at 6.4 percent
Credit Suisse Group AG (Michael Strobaek)
Emerging market equities may continue to outperform developed markets amid strong global growth, stabilizing China and moderate inflation
Small-cap stocks can play catch up in 2018
Momentum in emerging market economies will offset Fed's tightening
India may have better growth in 2018 after policy shocks in previous years
South Korea, Taiwan should benefit from the global demand, recovery in consumer as well as corporate expenditure
Morgan Stanley (Jonathan Garner)
2018 going to be considerably tougher as market is near "euphoric" sentiment
Economic growth might be "good" but central banks tightening, China slowdown, elections in emerging market countries may weigh on equities
Overweight on China, India, Brazil and cuts Japan to equal-weight and Korea to underweight
Cuts semiconductor and hardware stocks to equal-eight and raises energy to overweight
Goldman Sachs Group Inc. (Timothy Moe, Nov. 22)
Asia ex-Japan stock rally may continue in 2018 amid constructive earnings growth and valuations
Expects 14 percent earnings growth for MSCI Asia Pacific ex-Japan
Bullish on China -- may see 6.5 percent GDP growth, steady monetary and fiscal policies
Favors, China, India, Korea, technology, materials, insurance stocks
— With assistance by Moxy Ying
Before it's here, it's on the Bloomberg Terminal.
LEARN MORE