Honduran Electoral Authority Goes Quiet as Opposition Takes Lead
By
Opposition leader seeks higher minimum wage, luxury items tax

Conservative incumbent slashed deficit under IMF program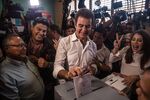 Honduran opposition candidate Salvador Nasralla took a surprise lead in the nation's presidential election before the electoral authority stopped updating the vote count.
The authority counted more than half of the votes within nine hours of polls closing, then stopped releasing updates, saying it may need until Nov. 30 to publish the final tally.
Conservative incumbent Juan Orlando Hernandez, 49, is popular with foreign investors after slashing the fiscal deficit under an IMF program, and presiding over a drop in violence. But S&P Global Ratings as well as the local opposition have sounded the alarm over the growing concentration of power in his hands.
Hernandez probably has an advantage in the rural votes that haven't yet been counted, but the delays by the electoral authority will generate concerns about his legitimacy if he ends up winning, according to Eurasia Group analyst Risa Grais-Targow.
"If they end up going to Hernandez and there are major doubts about legitimacy, I think the social backlash will be immense," she said.

The nation's dollar bonds due 2027 fell 1.5 cents, the most since they began trading in January, sending the yield up 20 basis points to 5.35 percent. The Central American nation has $1.7 billion of dollar bonds outstanding.
After saying nothing all day, Hernandez broke his silence late afternoon with a tweet saying
"We are waiting for the final tallies that ratify our resounding victory in the presidential elections. This isn't over until it's over."
Nasralla, 64, claimed victory, and called his supporters out to protest in front of the electoral authority. He had 45.2 percent of votes compared with 40.2 percent for Hernandez, with 57.9 percent of the ballots counted. Nasralla, a former TV sports journalist, leads an opposition coalition backed by left-leaning, ousted President Jose Manuel Zelaya.
The presence of international observers might make it difficult to get away with "major fraud," said Geoff Thale of the Washington Office on Latin America. With the candidates calling their supporters into the streets, clashes are possible, he said.
Nasralla has pledged to raise the minimum wage, cut taxes on the production of staple foods and increase taxes on luxury goods.
Before it's here, it's on the Bloomberg Terminal.
LEARN MORE