Franken Apologizes Again While Saying He's Resuming Senate Work
By and
Minnesota Democrat says he's 'ashamed' by allegations

Lawmaker says he's going to be more careful, sensitive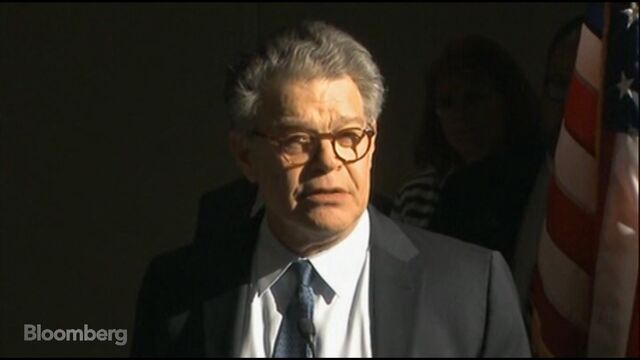 Senator Al Franken said he was "embarrassed" and "ashamed" after several women accused him of inappropriate kissing and touching, but he's returned to the Capitol to resume his work in Congress, where he's facing an ethics investigation, and gave no indication he plans to resign.
"I am tremendously sorry," the Minnesota Democrat, 66, told reporters at a news conference in Washington on Monday, repeating earlier apologies. "It's going to take a long time for me to regain people's trust."
Democrats have struggled to address the allegations against Franken, as well as Representative John Conyers, a Michigan Democrat, while maintaining their claim to be the party of women's rights and gender equality. Franken specifically apologized to those who "counted on me to be a champion for women."
Los Angeles radio broadcaster Leeann Tweeden on Nov. 16 accused the former "Saturday Night Live" writer and performer of forcibly kissing her and taking an embarrassing photograph with her during a 2006 USO tour. Since then, three other women have accused Franken of groping them, in two cases while posing for photos.
He said he's going to "have to be much more conscious in these circumstances -- much more careful, much more sensitive."
Franken said he is willing to make the ethics investigation of his conduct public upon its completion.
Franken's apology comes one day after Conyers stepped down as ranking member of the Judiciary committee. Conyers's decision followed reports that he reached a $27,000 settlement with a former staffer who said she was fired for rejecting his sexual advances. Conyers has acknowledged the settlement but denied the sexual harassment charges.
Democratic Leader Nancy Pelosi of California was criticized Sunday for calling Conyers an "icon" who has worked to protect women while declining to say whether she believed the accusations against him.
Democratic lawmakers have called for ethics committee investigations for both Franken and Conyers. Democratic Representative Kathleen Rice of New York has urged Conyers to resign, and Republican Senator Marco Rubio told a Miami television station that Franken should consider resigning, but most lawmakers, in both parties, have stopped short of saying either man should be forced to leave Congress.
Republicans also are dealing with their own high-profile case of alleged misconduct. Most GOP senators have distanced themselves from Alabama Republican Senate candidate Roy Moore, who has been accused of sexual assault involving a teenager and other inappropriate contact with teenage girls when he was in his 30s. Majority Leader Mitch McConnell, who backed Moore's primary challenger, has called on him to step aside. Another member of the party leadership in the chamber has warned that Moore may be expelled from the Senate if he wins election on Dec. 12.
Before it's here, it's on the Bloomberg Terminal.
LEARN MORE