The Fed's Temporary Tool to Keep Rates Above Zero Still Has Its Uses
By
Rise in T-bill, repo rates has created attractive alternatives

Fed's Powell will be tasked with determining the RRP's fate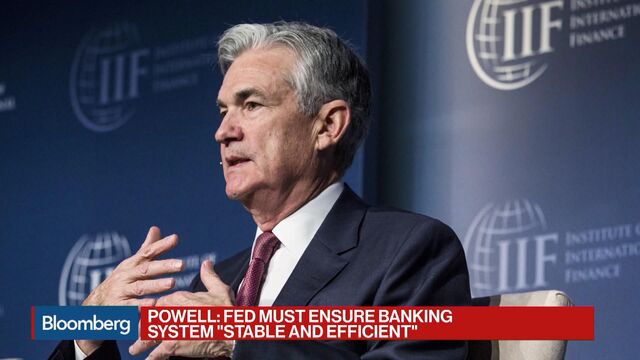 The Federal Reserve facility that offers investors a fixed rate for parking cash overnight is dwindling in popularity and the central bank has said that it intends to phase it out when it's no longer needed. It isn't going to disappear for now though.
With the increase in short-end bill yields and repo rates creating more attractive alternatives, take up of the Fed's fixed-rate overnight reverse repo program has fallen. Usage on one day this month dwindled to just $20.7 billion, less than 5 percent of its peak size since it was created just over four years ago. But it's still an important part of the funding market's plumbing and it will remain so at least until the central bank reverts to targeting a single rate rather than a band.

The fate of the program is one of many challenges facing Jerome Powell as he prepares to assume leadership of the U.S. central bank. Along with stockpiling interest-rate ammunition to combat future downturns and shrinking the balance sheet, the Powell Fed will be tasked with overseeing a return to a more normal state of affairs in markets that have been distorted in the wake of the 2008 crisis.
A key question is whether that means unwinding facilities such as the RRP entirely, or whether they've proven a worthwhile addition to the toolkit for smoothing market stresses.
Wary Investors
"People are wary of the facility because the Fed keeps saying it's temporary and you don't want to become dependent on something a regulator tells you is temporary,'' said Deborah Cunningham, chief investment officer for money markets at Pittsburgh-based Federated Investors. At the same time, Cunningham says money markets love that it's there to help alleviate market pressures at times like month-end and quarter-end, "when it's needed most.''
The RRP, first introduced in September 2013, is offered at the lower bound of the central bank's target range for the fed funds rate: currently 1 percent. In comparison, the overnight reverse repo rate on Nov. 1 closed as high as 1.27 percent, a level unsurpassed level since June 30, and was at 1.12 percent as of 8:26 a.m. on Tuesday in New York. The yield on one-month Treasury bills closed at 1.14 percent on Nov. 22 and was at 1.13 percent on Tuesday. With wider budget deficits and a large influx of bill issuance projected, the upward pressure on those rates is likely to increase -- in turn rendering the RRP less desirable.
To read more about the upcoming deluge of bill issuance, click here.
"The markets are indicating the facility is not as necessary as it used to be and perhaps will be less necessary in the future,'' when the Treasury Department starts issuing more in the short-end and intermediate part of the curve, said Mark Cabana, head of U.S. short-term rates strategy at Bank of America Corp.
The RRP was first introduced as a tool that would complement the Fed's interest on excess reserves rate -- the level that represents the upper bound of the central bank's target range for fed funds. At that time money-market rates were hovering close to zero and members of the Federal Open Market Committee envisioned it as an "effective additional tool for managing money market interest rates and helping to support a floor on those rates."
Simple and Efficient
In November 2016, the FOMC said the potential use of this so-called floor system in a longer-run framework would likely "be relatively simple and efficient to administer, relatively straightforward to communicate, and effective in enabling interest rate control across a wide range of circumstances." Powell himself drew attention to his concurrence with this view in a June 1 speech. He also said that a return to the kind of system that existed before 2007 "may be less robust over time than a floor system."
As usage of the RRP wanes, it will be up to the central bank to determine the facility's fate. Lorie K. Logan, senior vice president at the New York Fed, said in a May 18 speech that the facility has been a "useful shock absorber" amid structural changes in money markets.
"The Fed wants to keep it around for as long as necessary," said Bank of America's Cabana. "But they'll be happy to see the markets' reliance dwindle."
(A previous version of this story was corrected to clarify a description of the Fed facility.)
Before it's here, it's on the Bloomberg Terminal.
LEARN MORE