Carwash Investigation Engulfs More of Peru's Political Elite
By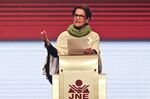 Lima's former mayor Susana Villaran is the latest politician to become ensnared in the ballooning scandal over the alleged payment of bribes or donations by Brazilian construction companies to some of the country's leading politicians.
A Peruvian court barred Villaran from leaving the country for eight months after prosecutors alleged she received $4 million in campaign donations from Odebrecht SA and OAS SA in 2013. Villaran's administration signed toll road contracts with both companies later that year. Villaran denies any wrongdoing.
Officials from Peru's four governments since 2001, as well as several mayors and regional governors, are under investigation as part of the Carwash bribery scandal that erupted in Brazil. A public opinion poll published on Sunday by GfK Conecta SAC, a research company, makes grim reading with 73 percent of those questioned saying Peru's current leader Pedro Pablo Kuczynski received bribes from Odebrecht when he was a government minister. For Kuczynski's three predecessors, that figure is even higher.
Kuczynski denies receiving bribes or campaign donations from Odebrecht. Two-time presidential runner-up Keiko Fujimori is also being probed for allegedly receiving Odebrecht campaign finance, allegations she denies.
In a sign of how trust is being eroded in Peru, even the country's chief Carwash prosecutor, Hamilton Castro, is under investigation after lawmakers accused him of shielding Odebrecht's local joint-venture partners by not investigating allegations they were in on the bribery scheme.
Before it's here, it's on the Bloomberg Terminal.
LEARN MORE