Beijing Rage Over Child Abuse, Evictions Shows Xi Challenge
Bloomberg News
China's government faces ire of middle class, migrant workers

'I blame the Communist Party,' says vendor forced from home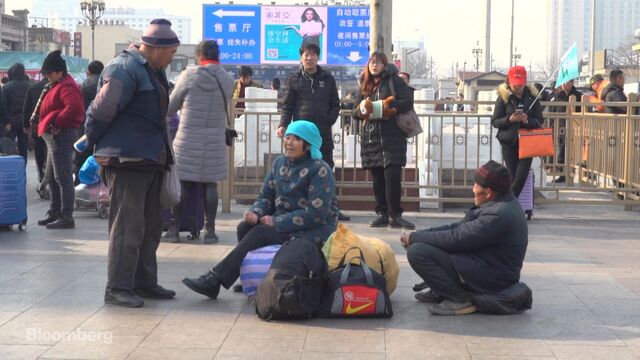 Migrant workers in southern Beijing worry about where they'll sleep after being evicted. In middle-class areas, abuse allegations have parents wondering if kindergartens are safe. They all blame the government.
Xu, a 52-year-old food vendor who only gave his surname, packed up his belongings at a makeshift single-story residence on Monday after authorities gave him just three days to leave his home. He recalled the official song for the 2008 Olympics, which declared "Beijing welcomes you."
"Now they want us to leave," said Xu, who moved to China's capital in 2000 from the northeastern province of Jilin. "Who do I blame? I blame the Communist Party -- that's who I blame."
Xu is one of tens of thousands of migrant workers forced to vacate their homes as part of a government push to eliminate unsafe rental units for the city's migrant workers following a fire that killed 19 people earlier this month. The evictions are occurring at the same time as a child abuse scandal in a private kindergarten roils middle-class residents in eastern Beijing.
The two incidents show the challenges President Xi Jinping faces after vowing to focus more on quality of life over economic growth in his second term. While authorities keep a tight lid on public dissent, the party's legitimacy to govern is directly tied to its ability to deliver high living standards -- something Xi terms "the Chinese dream."
"China's haves and have-nots were both angered in the spate of a week," said Deng Yuwen, a public affairs commentator in Beijing and a former deputy editor of Study Times, a leading party journal.
'Smashed' Dreams
"The forced evictions smashed the 'Chinese dream' of millions of migrant workers, and the kindergarten scandal horrified the middle-class parents who are working their butts off for a better future for their kids," he said. "Public frustration and anger, if not appropriately handled, would lead to political instability in the long run."
Chinese authorities have weathered similar scandals over the past decade relating to milk contamination, air pollution and industrial disasters. Still, the incidents provide a particular test due to the number of people affected, the increased ability of the masses to vent on social media and the timing so soon after Xi became China's most powerful leader in decades.
The Beijing municipal government didn't reply to faxed queries Monday about how it planned to respond to the public outcry.
The kindergarten under investigation is operated by RYB Education Inc., a listed company on the New York Stock Exchange that teaches some 300,000 children every week in more than 1,300 daycare centers and nearly 500 kindergartens spanning more than 300 Chinese cities. Its stock price gained 9.4 percent on Monday after plummeting nearly 40 percent on Friday.
Needle Marks
Parents have told publications including news magazine Caixin of finding what they believe to be needle marks on their children and of students saying teachers gave them white tablets. RYB Education said it fired a teacher at the kindergarten and removed the principal, and is also upgrading the security and sending an "elite" team to ensure normal operations.
Beijing police on Saturday detained a 22-year-old female teacher at the school on suspicion of abuse, and the government said the investigation would continue. On Monday, the Paper, a Shanghai-based news site, reported that Beijing police were investigating parent complaints of injection marks on children from another nearby kindergarten.
Internet users blamed a lack of oversight by education authorities. A report by the Paper detailing the first case received more than 38,000 comments on the Weibo social media network, with many wondering why the molestation allegations hadn't been addressed.
"We can't accept the scapegoat the authorities provided," said one web user with the handle "Artful Tweezers," referring to the teacher's arrest. "We need a thorough investigation into the broad, systematic problems in our early education system."
'Too Simplistic'
Migrant workers interviewed Monday were similarly skeptical about the municipal government's Nov. 20 statement that evictions were necessary due to potential fire hazards in overcrowded and unsafe rental homes. The capital is home to some 8 million workers from around China, and authorities are trying to cap its overall population at 23 million.
On Sunday, city authorities acknowledged the measures used in some districts were "too simplistic" and said they would look to improve in the future. Volunteer networks have sought to provide shelter and food to migrants.
Beijing is shifting its economy into higher value industries including technology and finance, and is striving to improve its living environment to attract top talent. About 30 million square meters (11 square miles) of illegal construction was dismantled in the first half of the year and 131 markets were closed or renovated, the People's Daily website reported in July.
'Emptying the Cages'
"We are emptying the cages to change the birds," Tan Xuxiang, director of Beijing Municipal Commission of Development and Reform, told the People's Daily then, adding that the city would continue to phase out markets and make policies to stimulate growth for high-tech industries.  
Social media sites have been flooded with pictures showing families packing in despair and left homeless in the cold. Some posts said residents were given as little as 15 minutes to vacate homes where they had lived for years.
"It will not only lead to dissatisfaction with Beijing, but also cause hatred toward the whole society after they were unfairly treated and sent back," said Li Shi, an economics professor at Beijing Normal University who studies income distribution. "It has exacerbated social conflicts to a large extent."
In Beijing's southwestern district of Fengtai, where food-vendor Xu was packing up, a pair of day laborers from the eastern province of Shandong were looking for some shelter after getting booted from the apartment they rented for 700 yuan ($106) per month.
"I feel helpless," said Liu, 31, who only gave his surname. "Can you find a place for me to stay tonight?"
— With assistance by Ting Shi, Yan Zhang, Peter Martin, Keith Zhai, and Kevin Hamlin
Before it's here, it's on the Bloomberg Terminal.
LEARN MORE