Business
Hong Kong's House Prices Could Soar Another 10% Next Year
By and
Hong Kong's House Prices Could Soar Another 10% Next Year
By and
Prices seen rising 5%-10% next year after 11% growth this year

Tight supply, cheap money, Bank of Mom and Dad fueling prices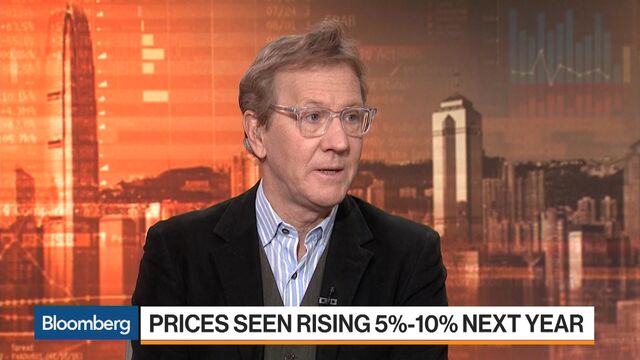 Hong Kong's red-hot housing market shows no signs of cooling anytime soon.
Prices in the city have climbed 11 percent this year, defying skeptics waiting for the bubble to burst and government attempts to rein in the world's most expensive housing market through a raft of taxes and mortgage curbs.
If anything, the frenzy has intensified in recent months as investors have poured money into property. Buyers have set new records for everything from luxury homes in the exclusive Peak neighborhood to undeveloped residential land. There have also been blockbuster deals for commercial property in the heart of Hong Kong's central district.
"Now it is very hot, because of the hot money rushing in," said Raymond Ho, deputy senior director of residential development and investment at Savills Plc. "There is more record-breaking coming."
Runaway growth has put the city in bubble risk territory, according to the UBS Global Real Estate Bubble Index. Even so, mass-market home prices will rise 8 percent to 10 percent next year, according to property consultancy Colliers International Group Inc. Real estate consultant Knight Frank LLP expects prices of such homes to climb 5 percent next year, while luxury housing advances 8 percent.
Here are five reasons why property bulls say the city's housing market will continue to defy expectations of a slowdown:
1. Demand Outstrips Supply
An average 20,000 new private residential units come to market each year, barely enough to cover the 20,000 mainland Chinese who become permanent residents each year -- allowing them to avoid the punitive stamp duties slapped on foreign buyers -- let alone anyone else. The number of unsold apartments in the third quarter fell to the lowest levels since 2015, according to Bloomberg Intelligence.

2. Money's Easy
Cash-rich developers are pulling out all stops to entice buyers. At its Cullinan West project, Sun Hung Kai Properties Ltd. is offering buyers finance of as much as 120 percent of the purchase price: 90 percent toward buying the new property, and 30 percent to pay down their existing mortgage. More than 95 percent of the 321 units offered over the weekend sold, Sun Hung Kai said. They were priced about 11 percent higher than a March sale at the same development, according to BOCOM International Holdings Co. Other developers offer rebates to buy furniture or interest-only loans for the first three years.
3. ... and Cheap
In a sign that mortgage wars between banks are raging even amid the prospect of rising interest rates, HSBC Holdings Plc is offering to match low rates from rival lenders. Hong Kong's largest mortgage lender is offering some clients a rate of Hibor plus 1.28 percent if they get similar terms from other banks. That works out to less than 2 percent. 
"These rates are highly affordable and will continue to be, even if the U.S. pushes up rates 25 or 50 basis points," said Marcos Chan, senior director of head of research for Hong Kong, Southern China and Taiwan at CBRE Inc.

4. The Bank of Mom and Dad
The biggest obstacle for new home buyers is coming up with the minimum 40 percent down-payment required by Hong Kong Monetary Authority loan-to-value ratios. Step in the Bank of Mom and Dad. Hong Kong's de-facto central bank has warned young buyers are increasingly turning to their parents, with home purchases being financed partially by proceeds from refinancing mortgages. That also makes it harder for others whose families aren't asset-rich to get on the property ladder.
The average number of monthly refinancings rose to 3,100 in the first three quarters of this year from 2,200 in 2016, according to HKMA data.
Through August, the value of refinancing was equal to almost 50 percent of primary sales, according to Cusson Leung, head of research for Hong Kong property and conglomerates at JPMorgan Chase & Co. "We have the sense that most of the financing is going into buying property."

5. Soaring Land Prices
Aggressive bids by mainland developers keen to build up land banks have pushed Hong Kong prices to records. Non-local developers account for 68 percent of all government land purchases this year, according to Colliers. 
In February, two mainland companies paid a record HK$22,118 per square foot for a waterfront site. Those costs will ultimately result in higher apartment prices once developments are completed, causing neighboring property owners to raise their own expectations. 
"People translate a land sale into the final built price, and when it is way above the market everyone will raise their own prices," said Denis Ma, head of Hong Kong research at consultancy Jones Lang LaSalle Inc. 

— With assistance by Alfred Liu
(
Adds sales results in eighth paragraph.
)