Tycoon Dawood's Engro Says Pakistan Needs to Fix Power Grid
By and
Distribution, transmission network present a challenge: Engro

Engro CEO says company is set to invest in solar, wind farms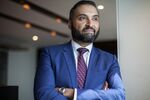 In its zeal to eliminate blackouts, Pakistan may have lost sight of another problem -- it's aging transmission and distribution network.
As the country builds 10,000 megawatts of power plants with Chinese help before national elections less than a year away, getting that electricity to customers is a challenge, said Ghias Khan, chief executive officer at Engro Corp., one of the country's largest conglomerate with interests in coal power and gas.
"On the generation side and gas-supply side there has been a lot of good work done,'' Khan said in an interview in Karachi. "Distribution is a different ball game altogether because now you're talking about millions of customers and payment issues.''
Pakistan for years has struggled with deficient power generation and distribution, holding back the economy and leaving residents and industry without power. The fragility of the grid was underlined during peak summer demand, when tripping and faults caused widespread cuts across major cities, including the urban centers of Karachi and Lahore.
Engro, which started out as a fertilizer maker and was close to bankruptcy about four years ago, has seen a turnaround in its fortunes with a focus on natural gas. The group started Pakistan's first liquefied natural gas terminal two years ago. Now, the country has the largest appetite for LNG among emerging markets, according to Bloomberg New Energy Finance.
One-Stop Shop

In addition, the group is leading a consortium to build the nation's first large-scale coal plant and mining operation. It is also setting up solar and wind farms and is considering a 450 megawatt LNG-fired power plant, according to Khan. Given its history with fertilizers, it also wants to be a one-stop shop for farmers from providing farm inputs to financing and advisory services, he said.
Engro was bought by a group of employees in 1991 from Exxon Mobil Corp. as it exited the fertilizer business globally. The nation's third-largest business group by market value -- excluding Hub Power Co. that has been agreed to be sold -- which is now owned by businessman Hussain Dawood, has since diversified into chemicals, dairy and power production. Fertilizers remains its oldest and largest business.

The conglomerate's cash, cash equivalents and short-term investments increased more than four times to 71 billion rupees ($673 million) last year making new ventures and acquisitions possible, Khan said. The company's shares fell as much as 2.2 percent to 255 rupees on the Karachi Stock Exchange on Monday. They traded at 255.75 rupees as of 12:16 p.m. local time.
"We are using this as an opportunity to really figure out how we want this company to look like in the next 10-15 years,'' he said. "We want to take advantage of being in some of the more unregulated consumer-oriented businesses.''
Before it's here, it's on the Bloomberg Terminal.
LEARN MORE