Merkel Woos Her Opponents With Prospect of Another Grand Coalition
By
German chancellor reaches out to Social Democrats in speech

Conditions include balanced budget, no anti-business stance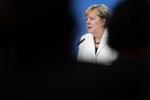 German Chancellor Angela Merkel previewed the agenda of her next government, saying any coalition partner would have to support a balanced budget and broadly pro-business policies.
In a speech to members of her Christian Democratic Union, Merkel reached out in the clearest terms yet to the Social Democratic Party, her main opponents, in effect proposing a rerun of the "grand coalition" that governed Germany for the past four years.
"I don't understand why the SPD never said a good word about the grand coalition during the election campaign," Merkel, Europe's longest-serving leader, told a regional party convention at the Baltic sea resort of Kuehlungsborn on Saturday. "We did a good job. We worked well together."
Read more: Where Merkel stands after a tumultuous week in German politics
Merkel's options to secure a parliamentary majority for her fourth term narrowed after coalition talks with the Free Democrats and the Green party broke down on Nov. 19. She reiterated her opposition to a repeat election, saying Saturday that "I don't like the idea of asking people to go to the polls again."
Instead, she laid out a potential path to another alliance between her CDU-led bloc and the Social Democrats. Both groups fell to historic lows in a national election on Sept. 24, putting Germany in what Merkel called "a difficult situation" that's left Europe's biggest economy at a political impasse for two months.
Fair Society
Merkel and SPD head Martin Schulz, her defeated election challenger, are scheduled to meet Thursday at the invitation of German President Frank-Walter Steinmeier, who is urging party leaders to avoid new elections.
Merkel evoked the SPD's campaign slogan emphasizing a fair society while saying the best way to get there is with a "common-sense, business-oriented policy," coupled with limited tax relief.
"Only those who are interested in these goals as much as we are can have a role in government," Merkel said. "Germany needs a stable government. But it has to be government that moves the country forward."
While polls suggest that Merkel, 63, retains her party's support, she's facing persistent criticism from conservative members, particularly for her open-borders refugee policy. When a man in the audience on Saturday got up to call on Merkel to resign, he was booed by the crowd of about 200 people.
Before it's here, it's on the Bloomberg Terminal.
LEARN MORE