GOP's Fridge Promise on Taxes Has Some Seeking Cold, Hard Facts
By
Middle-class benefit, temporary cuts top Kentuckians' concerns

Senate leader plans floor vote on measure as soon as Nov. 30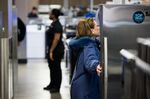 Republican leaders have called their bill to overhaul the U.S. taxation system a major boon for the middle class, including a tax cut big enough for a family of four to buy a new refrigerator.

This week, Senate Majority Leader Mitch McConnell of Kentucky plans to bring his chamber's version of the legislation to a floor vote -- but voters in his home state still have questions about who'd benefit most under the measure that's hurtling through Congress at an unusually rapid pace at the behest of President Donald Trump.
"It needs to do more for the middle class,'' said Anthony Bramblett of Lexington, Kentucky.
As it happens, Bramblett's currently in the market for a new refrigerator. He was browsing the appliance section at a Lowe's home-improvement center on Black Friday -- the same day Congress's official scorekeeper released a new study showing that the Senate bill would benefit the highest earners the most.
The congressional Joint Committee on Taxation's projections showed that in 2019, households earning $1 million or more would get an average tax cut that's about 73 times as large as that for households earning between $50,000 and $75,000. Median household income in the U.S. is about $59,000. The study also found that under the plan, people earning $20,000 to $30,000 a year would pay 13.4 percent more as a group in 2021, and 25.5 percent more by 2027.
Refrigerator Options
The Senate may vote as soon as Nov. 30 on a bill that would cut the corporate tax rate to 20 percent from 35 percent and lower the rates for individuals and other businesses through 2025. It differs in significant ways from the version that passed the House of Representatives earlier this month. If the Senate measure passes, both chambers will have to reconcile their differences before a tax bill could go to Trump's desk for a signature.
Bramblett said a tax cut of roughly $1,200 -- the amount that House Speaker Paul Ryan of Wisconsin and others have cited for a family of four making $59,000 a year -- would indeed cover the cost of the refrigerators he was considering. But it wouldn't cover models with fancy options like dual ice makers or digital tablets built into the doors for recording grocery lists. He said providing relief for middle-class people would stimulate the U.S. economy more effectively than would tax cuts for the highest earners.
"They'd be more likely to spend it,'' he said.
Mixed Messages
Several other appliance shoppers echoed Bramblett's concerns on Friday, saying that while they generally favor the legislation, they're hearing mixed messages about who'd benefit the most.
Sharon Stringer of Nicholasville, Kentucky, said she's been unable to get a solid idea of the plan's relative benefits for different income groups from news reports. It "depends on which channel you're watching," she said.
She cited some clear benefits for middle-income people; the legislation would almost double the standard deduction, for example. But she said other details have been "really vague," and she's also troubled by the fact that the Senate bill would make its tax cuts for individuals only temporary, setting them to expire in 2026.
"I'm totally against temporary," said Stringer, who was looking for a new washer and dryer. "I think they should stick with it."
Deficit Impact
Senate tax writers set the individual tax cuts to expire partly to try to limit the legislation's effect on federal deficits. The joint committee has estimated that the bill would reduce federal revenue by $1.4 trillion over a decade, before accounting for any bump in economic growth that might result from the cuts. Stringer, 60, says she's concerned about how well funded Medicare and Social Security will be in later years.
But she said she favors at least one of the legislation's key features -- cutting the corporate tax rate to 20 percent from 35 percent. Cutting the corporate tax rate would help the U.S. compete with other industrialized countries that have lower rates, Stringer said.
"Although there's a perception that that just helps corporations, it really helps dying towns," she said. "You have to look at the needs of the many, not just the needs of the few."
Pass-Through Effects
The Senate bill's effect on other types of businesses -- partnerships, limited liability companies and other so-called "pass-through" entities -- prompted some concern from shopper Andrew Isaacs, who said he'd been to three stores already and was closing in on a refrigerator purchase.
The legislation would offer pass-through owners a 17.4 percent deduction against their business income. When combined with other provisions, that would result in an effective top tax rate for them that's more than 10 percentage points higher than the proposed corporate tax rate.
"Putting them at less of an advantage -- as opposed to corporations -- that doesn't seem very fair,'' said Isaacs. Senate leaders have said they'll try to respond to such criticisms before the bill comes to the floor.
Isaacs said he supports the tax legislation generally, although he doesn't know that he'll benefit much personally, as a self-described member of the upper middle class. "I think we'd come out about the same as we're doing now," he said. But he said he hopes the changes would create more jobs and economic growth, as its backers have suggested, helping to prevent the kind of deficit increases projected by the JCT and others.
'Good Discussion'
"Now if they're wrong, obviously, that won't work," Isaacs said. "This is a good strategy to try," he added. "Hopefully, there'll be some good discussion."
The legislation has the unalloyed support of shopper Susan English of Lexington, a small business owner who said that her family real estate business "would definitely benefit" under the plan.
English said Congress needs to eliminate the estate tax, which she said took a large bite from the business her father started. "We paid $1.2 million in taxes when he died,'' said English, who called herself a Trump supporter. She said it's not fair to have to pay taxes at death.
Under current law, the federal estate tax applies a 40 percent levy against any portion of an estate worth more than $5.49 million for single people and $10.98 million for married couples. The House bill would double those thresholds and then repeal the estate tax entirely in 2025. The Senate measure would merely double the thresholds, reducing the number of estates that would be affected. But that doubling would disappear in 2026, and the estate tax would remain in effect.
Before it's here, it's on the Bloomberg Terminal.
LEARN MORE