Ukraine's Reformist Finance Minister Braces for Criminal Probe
By and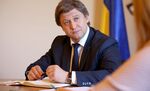 Ukraine's finance minister, who won praise from international creditors and investors for advancing reforms, said he may face a criminal probe as prosecutors seek to scrutinize his tax records.
Oleksandr Danylyuk called the audit a response to his ministry's efforts to boost the transparency of value-added tax reimbursements, block corrupt schemes, curb financing for prosecutors and revamp the state fiscal service. The service examined Danylyuk's tax records between 1998 and 2016, concluding that liabilities were understated while he was resident in the U.K., according to an emailed statement from the Finance Ministry.
"The majority of people understands that this case has no prospects, is artificial and is planned not to win but to hurt my reputation," Danylyuk said in the statement. He's accused some politicians of seeking to block reforms under a $17.5 billion bailout to overhaul the ex-Soviet economy, with many of the measures detrimental to vested interests.
The Prosecutor General Office's press office couldn't comment immediately.
Before it's here, it's on the Bloomberg Terminal.
LEARN MORE