Saudi Crown Prince Calls Iran's Khamenei `New Hitler,' NYT Says
By
Prince Mohammed confirms most graft suspects want to do a deal

Experts ensuring suspects' businesses don't go bankrupt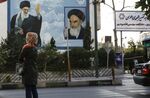 Saudi Crown Prince Mohammed bin Salman rounded on the kingdom's chief regional foe Iran, including calling its supreme leader "the new Hitler of the Middle East," according to the New York Times.
He also said Lebanon's prime minister, whose resignation this month in Riyadh triggered concern of an escalating confrontation between the two Middle East heavyweights, won't continue to give political cover for a government that, the prince said, is controlled by Iranian proxy Hezbollah.
"We learned from Europe that appeasement doesn't work," the paper cited the prince as saying about the Islamic Republic and its top official, Ayatollah Ali Khamenei. "We don't want the new Hitler in Iran to repeat what happened in Europe in the Middle East."
Saudi Arabia, an absolute monarchy founded on the austere Wahhabi interpretation of Islam, has been trying to roll back Shiite Iran's expanding influence in four Arab capitals -- Damascus, Beirut, Sanaa and Baghdad. It launched a war against pro-Iranian rebels in Yemen, blockaded fellow Gulf country Qatar for its ties with Iran, and is thought by many observers to have orchestrated the Nov. 4 decision to quit by Lebanon's Saad Hariri. After returning to Beirut, Hariri put his resignation on hold.
Trump Praise
The prince declined to discuss "the strange goings on with" Hariri beyond saying that the Sunni Muslim premier, who blamed Iranian interference for his decision to resign, was no longer willing to accommodate Hezbollah in his power-sharing administration.
In the interview at an ornate adobe-walled palace in Ouja, he praised U.S. President Donald Trump as "the right person at the right time," and suggested that with U.S. backing, the Saudis and Arab allies were building a coalition to stand up to non-Arab Iran, the paper said.
Iran Sees Its Rivals Uniting as Israel Talks Up Saudi Ties
Prince Mohammed also gave more details on the arrests this month of Saudi royals and businessmen in a declared crackdown on corruption. The detention of the suspects, who are being held at Riyadh's Ritz-Carlton Hotel, was made public shortly after King Salman announced the formation of an anti-corruption commission headed by the prince.
The purge prompted a selloff that wiped billions from stock markets across the Gulf, and was seen by some as an attempt by Prince Mohammed to tighten his grip on power.
Paying Up
The prince confirmed a BBC report that almost all of the graft suspects have agreed to pay for their release. "We show them all the files that we have and as soon as they see those about 95 percent agree to a settlement," which means signing over cash or shares of their business to the Saudi treasury, the Times quoted the prince as saying.
About 1 percent can prove they're clean and their cases have been dropped, he added, while about 4 percent say they aren't corrupt and want to go to court. Efforts were being made to ensure businesses aren't bankrupted in the process, the prince told the newspaper. He said the public prosecutor expects the government could eventually recover around $100 billion in settlements.
Before it's here, it's on the Bloomberg Terminal.
LEARN MORE