Oi Will Promote Eurico Teles to CEO
By
Chief legal officer has been with company since 1981

Crucial meeting of creditors is scheduled for Dec. 7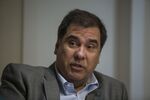 Oi SA appointed Eurico Teles as interim chief executive officer, quickly naming a replacement after Marco Schroeder resigned two weeks ahead of a crucial meeting with creditors.
Teles, 60, will also continue his duties as Oi's chief legal officer until the board can discuss the matter, according to a filing Friday. Schroeder concluded he could no longer work with the board and had grown frustrated with what he considered a slow pace of government action to help Oi emerge from bankruptcy protection, a person familiar with the matter said earlier.
The CEO change complicates the attempts by bondholders and the government to work out a restructuring plan that would be more palatable to creditors than the board's proposal. Schroeder, 53, took the job in June 2016, days before Rio de Janeiro-based Oi filed for bankruptcy protection with $19 billion in debt. He had been negotiating in recent months with a group of bondholders and government officials to develop a plan before the Dec. 7 creditors' assembly.
"The most recent meetings of the board of directors have made the necessity of my exit clear," Schroeder said in a resignation letter seen by Bloomberg. "Along with Oi's board of directors and management colleagues, in recent months I've experienced great challenges to make the formulation and approval of our judicial recovery process viable. I'm certain that there's a path through the judicial recovery that will permit the continuity of Oi as an important company in the telecommunications sector of the Brazilian market."
While Schroeder's exit is a sign of turmoil at Oi, the appointment of Teles could offer some stability. As the company's top lawyer, he's been heavily involved in the bankruptcy court proceedings and talks with stakeholders. Teles has been at the company since 1981 in a variety of legal positions, a constant presence at a company known for its executive turnover. If his interim role becomes permanent, he'll be Oi's sixth CEO in as many years.
Schroeder's exit is likely to heighten the frustration in Brasilia over Oi, which is the nation's biggest landline phone provider and operates essential parts of the nation's telecommunications infrastructure. President Michel Temer has been pushing for a resolution to the 17-month standoff between bondholders -- advised by Moelis & Co. and G5 Evercore -- and a group of shareholders led by businessman Nelson Tanure's Societe Mondiale.
The government had sided with Schroeder and the management team in the standoff. Anatel, the telecommunications regulator, expressed support for the executives' discussions with bondholders in October meetings. After that, the board named two of its members as statutory directors, a move considered worrisome by the court overseeing Oi's bankruptcy proceedings, which also expressed confidence in the company's independence in the negotiations.
Anatel hasn't been notified of the CEO's resignation, said Juarez Quadros, the agency's president, in a message. A representative of Attorney General Grace Mendonca, who is overseeing a work group in charge of finding a solution for the public portion of Oi's debt, declined to comment.
Oi's 5.5 percent dollar-denominated bonds due in 2020 rose less than 1 percent to 35.3 cents. The shares sank as much as 1.7 percent in Sao Paulo trading. Brazilian news outlet Veja reported earlier that Schroeder's resignation is effective Friday.
In an interview last month, Schroeder spoke of the toll Oi's long restructuring saga had taken on him. He and his wife had stopped taking their regular strolls on the Ipanema beach in Rio because he grew tired of people approaching him every 10 minutes to ask about Oi's future.
Schroeder had sought to strike a balance between the wishes of creditors and shareholders while acknowledging that both sides would have to make concessions.
"In the end, everybody will complain," Schroeder said in the October interview. "Shareholders will be unhappy and creditors will be unhappy. The point is to go through this process in a relatively balanced way."
Before it's here, it's on the Bloomberg Terminal.
LEARN MORE