Former Nigerian Vice President Abubakar Quits Ruling Party
By
All Progressives Congress lacks internal democracy, he says

Resignation paves way to announce run for office, analyst says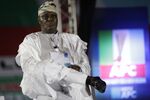 Former Nigerian Vice President Atiku Abubakar, a potential contender for 2019 presidential elections, quit the ruling All Progressives Congress party, saying it lacked internal democracy.
The party has put in place "a draconian clampdown on all forms of democracy within the party and the government it produced," Abubakar, 70, said in an emailed statement Friday. He didn't say whether he'd join another party or start one of his own and added that he will take time "to ponder" his future.
"He is prepared" to run in 2019 but hasn't made his final decision, Abubakar's spokesman Paul Ibe said by the phone from Yola, in the northeast. "He has the skills, composure and exposure to run."
President Muhammadu Buhari, 74, won the presidency of Africa's biggest oil producer two years ago by building a coalition that included disaffected members of the former ruling People's Democratic Party and three other opposition groups. Abubakar was a founding member of the PDP before defecting to the APC in 2014.
Preparatory Move
"This is a preparatory move to running for president," Olusegun Sotola, senior researcher at Lagos-based Initiative of Public Policy, said by phone from the commercial hub. Abubakar is likely to return to the PDP, where structures already exist to effectively challenge the ruling party, he said.
A plunge in revenue caused by lower output and prices for oil, the country's main export, saw the economy suffer its worst slump in 25 years and undermined Buhari's ability to meet his campaign promises, such as rebuilding infrastructure, revitalizing the power industry and creating jobs.
"The party we put in place has failed and continues to fail our people, especially our young people," Abubakar said in the statement.
Before it's here, it's on the Bloomberg Terminal.
LEARN MORE