Nasdaq Nordic Sets Listings Record, But Sees Slower Pace Ahead
By and
Number of listings this year stands at 100, beating 2015's 97

Nasdaq Nordic expects a lower number of listings next year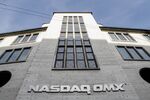 The number of listings on Nasdaq Inc.'s Nordic stock exchanges has set a new record, with 100 companies joining so far this year as accelerating economic growth and ample liquidity has driven share prices and demand higher.

The new high for the main markets and the alternative First North market beats the previous record of 97 from 2015. The latest addition is 2cureX AB, which starts trading on First North Stockholm on Friday. Other recent examples include Rovio Entertainment Oyj's initial public offering in Helsinki, Cherry AB's move to the Stockholm main market from First North and the Nilfisk A/S listing in Copenhagen following the demerger from NKT A/S.
The Nordic listings environment has been strong in recent years due to low volatility, low interest rates and strong investor appetite, with Nasdaq Nordic ranking during many quarters as the most active market in Europe. Growth has mainly been driven by First North, Nasdaq's market for smaller companies. 
But 2018 may not be as rosy, partly given concerns about the Swedish housing market and the turbulence it could cause, Adam Kostyal, the head of Nasdaq's European listings, said in a telephone interview.
"There is a concern in the market, with the significant debate about the housing market," Kostyal said. But it's too early to say what effect it will have on broader sentiment in the market, he said.
"If we get 50 listings next year I'd see that as a great success," he said. "The conditions ahead of 2018 point toward an active year, but maybe not a record year when it comes to the number of listings."
Before it's here, it's on the Bloomberg Terminal.
LEARN MORE