Egypt Suffers Worst Attack as 235 Killed in Mosque Assault
By
Attack is one of the deadliest in the country's history

Sinai at the center of battle with Islamic State affiliate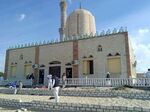 Militants armed with guns and explosives stormed a crowded mosque in Egypt's restive northern Sinai on Friday, killing at least 235 people and wounding 109 others in the deadliest single attack in the country in recent memory.
The scale of the assault and the choice of target -- people gathered for Friday prayers at a mosque frequented by Sufi Muslims -- stunned the nation, drew international condemnation and triggered air raids by Egypt's military. Attacks on mosques are rare in Egypt, but Sufis are considered heretics by jihadist movements such as Islamic State.

There was no immediate claim of responsibility for the attack, which took place west of the seaside city of Arish. But the Sinai Peninsula, a triangular piece of land bordering Israel, the Gaza Strip and the Suez Canal, has been the main battleground in the government's fight against local militants who've declared allegiance to Islamic State. Islamic State-Sinai Province has killed hundreds of police and soldiers in recent years. Over the past 12 months, it has turned its guns increasingly on civilians, with attacks on churches packed for Christmas and Easter prayers, and now on Muslim worshipers.
"This is a shift in the tactics of the terrorists," said Hossam El-Rifai, a member of parliament for northern Sinai. "An attack on civilians at Friday prayers is not something we have been used to seeing."
'Brutal Force'
While the violence isn't seen as threatening the stability of President Abdel-Fattah El-Sisi's government, it has devastated the tourist industry, a vital pillar of an economy that's struggling back to life after years of political upheaval.
El-Sisi made a televised statement vowing to avenge the dead and restore stability. He also said that those who supported, financed or incited the attack would face justice. "We will respond to this act with brutal force," El-Sisi said.
Overnight, the army said it launched airstrikes that destroyed some of the vehicles used by the attackers as well as hitting jihadist hideouts containing weapons and ammunition stores. The armed forces are continuing to comb the area, according to a statement on the army's Facebook page.
The attack is the biggest of its kind in recent memory. The last comparable assault took place in 2015, when the local Islamic State affiliate bombed a Russian passenger plane carrying holidaymakers from the Red Sea resort of Sharm El-Sheikh, killing 224 people.
'Horrible and Cowardly'
The militants have waged a campaign against Coptic Christians that saw most of that community flee northern Sinai earlier this year. Violence has spilled over to major cities like Cairo and Alexandria too, with attacks on churches.
U.S. President Donald Trump called the attack "horrible and cowardly" in a Twitter posting and later called El-Sisi to offer condolences.
"This represents the scary prospect that the list of targets they are willing to pursue is growing," said Timothy Kaldas, non-resident fellow at the Tahrir Institute for Middle East Policy. "It is hard to know, however, if they were targeted because they were Sufis or because they were perceived to be collaborating with the government."
As prayers were finishing up on Friday, militants in four vehicles drove up to the Rawda mosque, set off an improvised explosive device outside the building and opened fire on people praying inside and those that sought to flee, a senior security official based in north Sinai said. Locals took up weapons to help thwart the attackers, the official said.
Roads Blocked
The suspects fled as security forces arrived, but not before setting vehicles on fire and blocking the road to prevent survivors from fleeing and slow the arrival of emergency services. Foreign media access to northern Sinai is restricted, but state television showed orange ambulances lined up and rescue workers tending to casualties on stretchers. Other images showed dead bodies inside the mosque, covered in blankets.
The mosque is known to be frequented by Sufis, who adhere to a mystical variant of Islam. It's also on the main highway that runs parallel to the Mediterranean coast toward the Gaza Strip, so it draws in passers-by and local residents, particularly for Friday prayers.
The Sinai jihadists have attacked Sufi shrines with increasing frequency over the past year and have kidnapped and killed Sufi preachers, posting images of the executions online. Islamic State-Sinai Province has issued videos and statements vowing to eradicate Sufis, accusing them of apostasy.  
El-Sisi's Credibility
A former army chief, El-Sisi overthrew President Mohammed Mursi of the Muslim Brotherhood in mid-2013 following mass protests against his one-year rule. He went on to win a presidential election on a promise to crush Islamist groups. The Brotherhood has since been outlawed, with thousands of its members jailed or exiled, while El-Sisi has stepped up war on jihadist groups in northern Sinai.
The president said Egypt would not back down from that policy after the attack. "Egypt is facing terrorism on behalf of the entire region and the aim behind what is happening is to stop us from confronting terrorism," he said.
Egypt has helped broker a reconciliation between Palestinian factions and sought the help of Hamas to control the movement of militants and weapons between Gaza and Sinai. It's also joined a Saudi-led effort to isolate Qatar, partly on the grounds of its alleged support for Islamist groups.
Plans to open the Gaza border for a few days this week were postponed after the attack and raised broader questions about the effectiveness of El-Sisi's security strategy.
"The attack will, over the medium-term, damage El-Sisi's credibility as the figure that can protect Egypt, particularly if the security situation does not markedly improve," Hani Sabra of political risk analyst Alef Advisory said in a note. "And it probably won't."
— With assistance by Tarek El-Tablawy, Donna Abu-Nasr, Alaa Shahine, and Dana Khraiche
Before it's here, it's on the Bloomberg Terminal.
LEARN MORE