Merkel Was Ready to Back Greens on EU Pot of Money, FDP Says
By
Merkel's support for new finance facility 'was on the way'

Chancellor's leaning toward Greens was 'part of the struggle'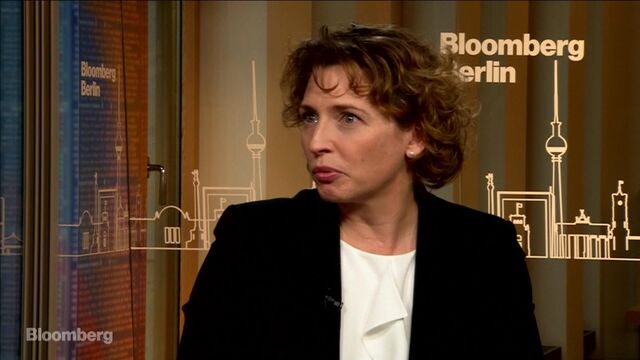 German Chancellor Angela Merkel was poised to back an additional financial facility for the euro area before talks on forming a governing coalition broke down, a Free Democratic Party negotiator said.
Merkel "was on the way" to accommodating the Green party with the proposal when the Free Democrats walked out on Sunday, ending four weeks of talks between the two groups and Merkel's bloc without an agreement, FDP general secretary Nicola Beer said in a Bloomberg Television interview.
While Merkel's Christian Democrat-led bloc and the FDP initially agreed that any new facility would undermine incentives for euro countries to safeguard the stability of their budgets, the chancellor wanted to accommodate the Green party, which led to a proposal the FDP couldn't accept, Beer said.
Disagreements over euro-area policy were a key obstacle in the talks, with Merkel's bloc proposing that member governments be ready to cushion economic shocks beyond any one country's control and the FDP rejecting any additional "fiscal capacity."
Merkel has said she's ready to discuss French President Emmanuel Macron's call for a euro-area budget that could fund joint investments and help counter economic shocks, without committing to details or an amount.
European Backers
The European Commission has put its weight behind deeper euro-area fiscal integration by means of a "fiscal capacity." Klaus Regling, head of the European Stability Mechanism, the euro area's financial backstop, said a facility managed by the ESM could play the role of rainy-day fund for euro countries experiencing asymmetric shocks.
The FDP official's view of events may offer clues to Merkel's stance in any coalition talks with the staunchly pro-European Social Democratic Party. Its leader, Martin Schulz, said Friday that the SPD "won't play an obstructionist role" as it struggles to decide whether to back Merkel in her fourth term.
Before it's here, it's on the Bloomberg Terminal.
LEARN MORE