Merkel to Sit Down With Rival as German Coalition Edges Closer
By , , and
Social Democrats weigh full coalition or limited support

Chancellor's fourth term and German stability hang in balance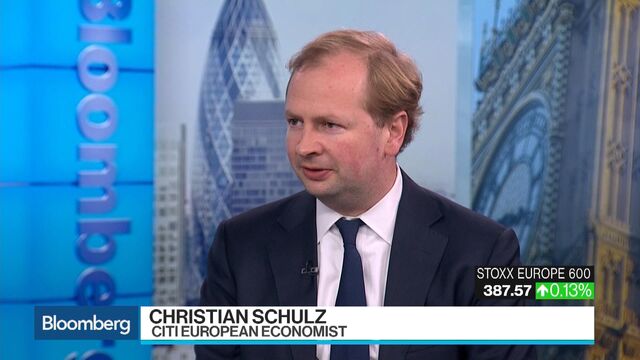 Germany's opposition leader agreed to meet Chancellor Angela Merkel next week to discuss forming her next government, edging her closer to ending weeks of political deadlock in Europe's biggest economy.
President Frank-Walter Steinmeier will host the talks between Merkel and Social Democratic Party head Martin Schulz to seek a way forward after her attempt to forge a coalition with the Free Democrats and the Green party collapsed, the presidential office said in a statement Friday. Merkel's Bavarian sister party also will attend. An exact date will be announced later.
Two months after an inconclusive election that brought a far-right party into parliament, Merkel is still trying to work out how she can govern and is operating for now in a caretaker capacity. While the chancellor is skeptical about ruling without a parliamentary majority and Schulz wants to avoid a formal coalition, the two sides are inching toward each other.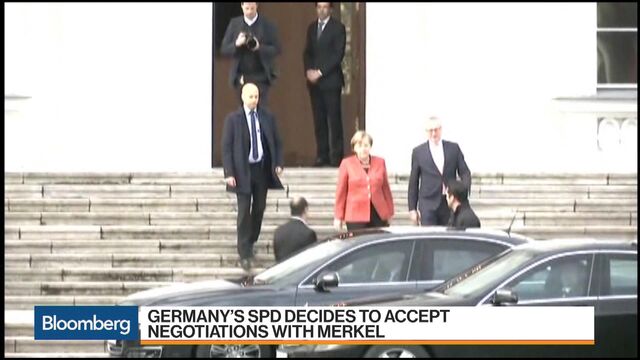 The euro rose 0.1 percent at $1.1862 at 12:32 p.m. in Frankfurt, gaining for a fourth day after the breakdown of coalition talks caused its biggest decline in almost a month on Monday. Germany's benchmark DAX index of leading stocks extended gains after next week's talks were announced.
German companies are watching developments in Berlin closely but appear to be confident a favorable solution will be found. The Ifo institute's German business confidence index climbed to a record in November.
"Most companies think that in the next weeks or months there will be a government so the economy is strong," Ifo president Clemens Fuest said in a Bloomberg Radio interview on Friday. "Demand is strong and so far this political uncertainty doesn't affect the economy."
Nothing Decided
Schulz is facing calls by SPD lawmakers and state leaders to drop his refusal to join a coalition as junior partner to Merkel's Christian Democrat-led bloc. He favors pledging SPD support for a minority government instead, something Merkel wants to avoid. Schulz planned to make a statement to reporters at 1:15 p.m. in Berlin.
Manuela Schwesig, the SPD prime minister in the eastern state of Mecklenburg-Western Pomerania, said the party's willingness to talk did not necessarily mean it was ready to join another "grand coalition" with Merkel, the alliance of the two biggest parties that underpinned two of the chancellor's three terms.
"For us it's clear that if there are talks, then we will also take part in these talks," Schwesig said on ZDF television Friday. "Just because we're saying that we're open to talks, it's not automatically a discussion about a grand coalition, and certainly not a vote for a grand coalition."
Whatever the SPD decides, it may require the approval of members, Heiko Maas of the party's leadership committee said on a German talk show on Thursday. The SPD is holding a party congress in Berlin from Dec. 7 to Dec. 9, when Schulz will be up for re-election as chairman.
After leading the SPD to its worst result since World War II in September, Schulz is under pressure from within his party to step aside, a move that might help clear the way for a grand coalition. Heil sought to quell the speculation on Thursday, saying "personnel matters" aren't on the agenda for now.
President's Moment
Schulz met with President Steinmeier on Thursday as Germany's head of state, a former SPD foreign minister, tries to secure a stable government.
As they prepare to engage with Merkel, the Social Democrats are split between those on the left who see the two coalitions with Merkel as the main reason for the slump in its support and those who spy a chance to push through policies such as expanded health care and reaching out to French President Emmanuel Macron to strengthen the euro area.
Many in the SPD would prefer to stay out of government to prevent the far-right Alternative for Germany, which entered parliament for the first time with 12.6 percent of the vote in September, from becoming the biggest opposition force.
— With assistance by Rainer Buergin
Before it's here, it's on the Bloomberg Terminal.
LEARN MORE