May Wary of Being Bitten Again in Game of Brexit Brinkmanship
By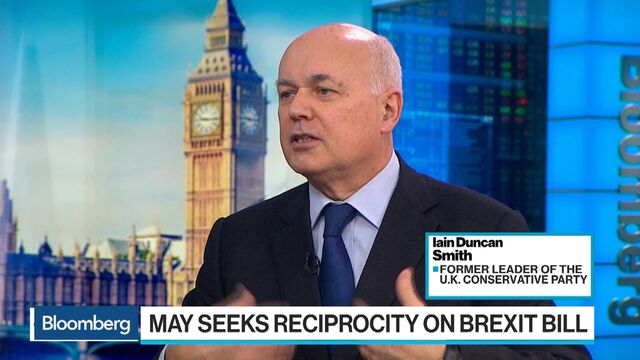 U.K. Prime Minister Theresa May right now cares more about the choreography of what happens next in Brexit negotiations than the kind of deal she'll get when they end.
The reason? May's team knows she needs to promise European negotiators more money, but doesn't trust them to follow through with the trade talks she wants, according to two people familiar with the situation.
May has been here before, her officials believe. In September, she delivered a carefully worded pledge to pay the U.K.'s share of the EU's budget until the current period ends, and honor Britain's wider financial commitments to the bloc. EU demands had helped guide the drafting of the speech.
British officials believed this would be enough for the EU to declare -- if not immediately, then soon afterwards -- that "sufficient progress" had been made on the divorce terms so that negotiations could move on to discussing the future trade pact. 
They were disappointed when no such declaration came. The British also point to the sudden re-emergence of the Irish border as an issue that the EU wants fixed now, before trade talks can begin. Previously, they thought European negotiators had agreed that the question of Ireland's land border with the U.K. could only be resolved once post-Brexit trade and customs arrangements were clear.
Now, the U.K. side fears that if the prime minister makes a better offer on the so-called Brexit bill in an attempt to break the deadlock before next month's key summit in Brussels, the EU will once again refuse to deliver the trade talks she wants. The EU side argues that both parties agreed to resolve the divorce before starting trade talks, and the U.K. has only offered about a third of what it thinks the financial settlement should be.
U.K. officials believe the EU has moved the goalposts at least once and mustn't be allowed to again. If they do, May will be dangerously exposed at home with nothing to show for her compromises, and some British government figures say in private that could lead to talks breaking down completely.
Before it's here, it's on the Bloomberg Terminal.
LEARN MORE