Jack Ma's Alipay Caps Online Loan Rates at 24%, Lenders Fall
Jun Luo
Qudian leads drop after move by top internet payment platform

Chinese government said to plan purge of online microlenders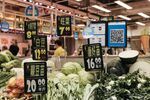 Alipay, China's leading internet payments platform, will enforce a cap of 24 percent on interest rates charged by lenders on its site as Chinese authorities are said to be preparing to crack down on so-called online microlenders.
The platform, part of the Ant Financial business controlled by billionaire Jack Ma, said in an emailed statement that it recently discovered some lenders charging rates that exceed the legal limit and using "inappropriate methods to collect debt."
"To better protect the interests of consumers, we decided to impose the rule on limiting interest rates to 24% for products being marketed on Lifestyle," the company said Friday in the statement. "And we requested all accounts to self-inspect and rectify before Nov. 30, 2017. We will continue regular checks on the platform and delist any non-compliant accounts."
The move followed reports in Chinese media this week that authorities plan to purge the country's 157 online microlenders and leave only large state-owned companies and the biggest internet firms. Analysts at Bernstein cut their earnings-per-share and target-price estimates for Beijing-based Qudian Inc, which currently charges 36 percent on loans. The company's New York-listed American Depositary Receipts dropped 24 percent, the most since Oct. 18, and led declines in the sector.
QuickTake Q&A: China War on Online Loans Makes Waves in New York
Separately, Bloomberg News reported earlier that regulators and police in China are investigating whether data from more than a million students who are Qudian clients were leaked and possibly sold online, according to people with knowledge of the matter. Qudian said in an email that it wasn't aware of the matter and two calls to the Ministry of Public Security were unanswered.
Ant Financial, formally known as Zhejiang Ant Small & Micro Financial Services Group, operates Yu'E Bao -- the world's largest money-market fund -- as well as Alipay. 
Before it's here, it's on the Bloomberg Terminal.
LEARN MORE