Colombia Extends Deepest Rate Cut Series Since Global Crisis
By
Analysts were split nearly 50-50 on whether bank would cut

Policy makers cut key rate 3 percentage points since December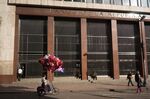 Colombia's central bank extended the deepest series of interest rate cuts since the global financial crisis, and signaled that there may be more to come, as it tries to revive an economy that has been in the doldrums for two years.
Five of the seven board members voted to cut borrowing costs 25 basis points to 4.75 percent, while two voted to leave they key rate unchanged, central bank Governor Juan Jose Echavarria told reporters after the meeting. The decision was forecast by 16 of 33 analysts surveyed by Bloomberg, with the others expecting no change.
Output is set to expand at its weakest pace since 2009 this year, as the economy failed to find enough new motors of growth to compensate for the end of the oil and mining boom. The bank has cut its policy rate 3 percentage points since December, as inflation slowed toward its target, after reaching a peak of 9 percent last year.
"I see, and I believe the board in general sees, a scenario to cut rates in the future, but at what pace we'll have to see," Echavarria said. "That means that in one meeting we'd cut rates, and in others we'd hold them."
Growth in the third quarter was lower than the bank had expected, while inflation expectations have dropped, said Andres Langebaek of Banco Davivienda, the economist with the best record of forecasting the bank's decision in Bloomberg surveys.
"If your models show you have room for a cut, why not do it now, given that the big lag before monetary policy has its effect," Langebaek said.

The economy will grow 1.7 percent this year, according to analysts surveyed by Bloomberg. In the third quarter, agriculture was the only sector that grew strongly, due to a good coffee harvest, while mining and construction contracted.
The bank cited "the greater weakness of economic activity, and improved 2018 inflation forecasts," in its decision to reduce borrowing costs. "Despite this, there are still risks in the international environment which limit the counter-cyclical capacity of monetary policy in the future," Echavarria said.
Inflation will slow to 3.4 percent by the end of next year, according to the central bank's most recent survey of economists, from 4.1 percent last month. Colombia targets annual inflation of 3 percent, plus or minus one percentage point.
The bank said it will reduce the frequency of its policy decisions to eight per year, from twelve, saying this will give members of the board more time to weigh key data.
Before it's here, it's on the Bloomberg Terminal.
LEARN MORE