Jailed Brazilian Lawmaker Loses Right to Work in Congress
By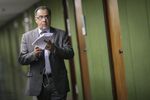 A jailed Brazilian lawmaker on day release has lost his right to work in Congress, following a unanimous decision by an appeals court in Brasilia.
The judges based their decision on the argument that Celso Jacob, a congressman from the ruling PMDB, was completely unsupervised in his work activities. Prior to Friday's court ruling, the legislator spent his nights in prison and his days in the lower house following his conviction on charges of forging public documents and breaking government procurement laws. 
The lawmaker intends to appeal the court's decision. The government may do so as well to ensure it has all possible supporters in the house ahead of a vote on a crucial pension bill, expected to take place in the week starting Dec. 5. An alternative option would be to expel Jacob from Congress, a move that would allow his alternate to take his place, but may take too long.
Jacob is currently in the prison's isolation unit after he was caught hiding cheese and biscuits in his underwear in an attempt to smuggle them into his cell on Sunday.
Before it's here, it's on the Bloomberg Terminal.
LEARN MORE