BOE's Tenreyro Rules Nothing Out on Interest Rates in Brexit Era
By and
Two hikes likely needed in next 3 years to meet inflation goal

Tenreyro speaks in first interview as policy maker on Thursday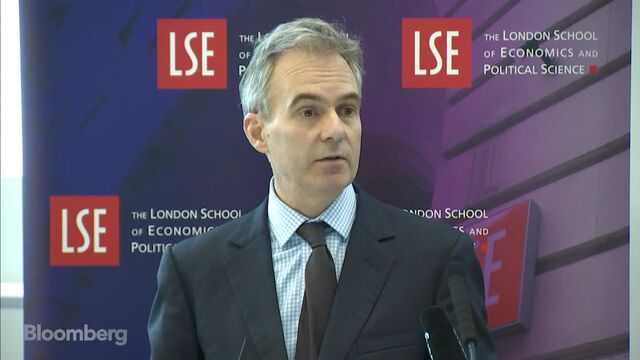 Bank of England official Silvana Tenreyro said two more interest-rate increases will probably be needed to get inflation back to target, but Brexit will be the real determinant of where policy goes next.
Less than a month after the first rate hike in a decade, Tenreyro's comments reinforce the view of other Monetary Policy Committee members that the path over the next three years isn't set in stone. While inflation is above the BOE's 2 percent goal, how the exit from the European Union filters through the economy and hits migration, investment and trade remains unknown.
"Brexit will likely affect the supply side of the economy," Tenreyro, 44, said on Thursday. "We don't know how the demand side will respond. It depends on how households and companies react to the new normal, to the new potential. Shocks can hit the economy one way or the other and we will have to respond to that."
Governor Mark Carney and his deputy Ben Broadbent have said in recent weeks that Brexit could prompt a policy move in either direction. Dave Ramsden, who voted against this month's tightening, said Monday that leaving the EU will lead to a long period of sluggish growth in the U.K. Markets are currently fully pricing in another 25 basis-point rate increase for November 2018.
'Modest' Growth
In her first interview since joining the MPC in July, Tenreyro said that economic growth will be "modest" over the BOE's forecast horizon. With weak productivity undermining the economy's potential, even that will be enough to fuel domestic inflation pressures.  
That's one of the reasons, along with what she says are signs of a wage-growth pickup, that led her to support the November interest-rate increase. Tenreyro had voted to keep the benchmark rate at a record-low 0.25 percent at her first two meetings.
But the next step isn't a given.
"People up until recently thought that Brexit meant monetary policy would remain highly accommodative and interest rates would stay low forever," she said. "But Brexit might present other challenges that require the opposite. It might require an adjustment either way, and it's not obvious. That's something to be prepared for."

Britain is due to leave the EU in March 2019, but there's little clarity as yet on the new relationship with the bloc or the nature of any transition deal. The BOE's forecasts are based on an average of various scenarios and aren't being adapted to every twist and turn in the negotiations.
"We cannot really respond to those high frequency movements," she said. "Once we've seen something material that requires an adjustment we will definitely take that on board."
Challenging Times
Tenreyro, who grew up in Argentina and studied at Harvard under Ken Rogoff, is now a professor at the London School of Economics. Asked whether steering monetary policy through the Brexit process is a daunting process, she said "I can't say this is more challenging" than her experiences in other countries.
"I worked in Argentina, and economics was just so pressing on every aspect of my upbringing," she said. "We went through many crises, high inflation, unemployment, debt crisis, and to me that was always fascinating."
One of the big issues facing policy makers globally is the failure of wages and inflation to pick up, despite falling unemployment and sustained expansion. In the U.K., the lowest jobless rate in more than four decades hasn't yet led to a material pay-growth upturn, though Tenreyro said surveys and BOE reports suggest there's reason to be more confident it's coming.
She said markets have "understood very well the BOE's communications," and defended the rate increase, which was seen by some as an error given the uncertainty over the outlook.
"I didn't think this was premature and in fact I did wait until I saw the signs from the surveys that convinced me," she said. "We know there are some lags in the transmission of monetary policy so you can move too late -- you have to make a judgment."
— With assistance by Brian Swint
Before it's here, it's on the Bloomberg Terminal.
LEARN MORE