Barclays Trader Jailed in Libor Scandal Fights U.K. Conviction
By and
Alex Pabon cites doubts over prosecution witness's credibility

Pabon was jailed for 33 months for rigging benchmark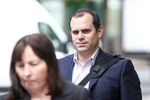 A former Barclays Plc trader sought permission from a London court to appeal his conviction for Libor-rigging, after the credibility of a prosecution witness who testified at his trial was called into question.
Alex Pabon, who was released from prison earlier this year, asked a panel of judges Friday to grant him an appeal. Pabon's lawyer, Tom Allen, told the court that statements made by the witness, Saul Haydon Rowe, on Libor could no longer be considered credible after it emerged he'd asked friends for help during breaks in his testimony. Allen said the impact of Rowe's evidence "was significant" and could have affected the jury's decision to convict.
Pabon, 39, was one of four former Barclays traders jailed in July 2016 for manipulating the London interbank interest rate, or Libor, a benchmark used to value trillions of dollars worth of financial products. He was released early from his 33-month sentence and returned to his native America. He filed the first of a two-stage process seeking permission to appeal on different grounds last year and was refused.
While judgment was reserved until a later date, Judge Peter Gross said he was "deeply troubled" that the Serious Fraud Office, which prosecuted the case, had used an expert witness that behaved the way Rowe did. Witnesses aren't supposed to speak to anyone about the case while testifying. The ruling will be significant as he also testified in three other Libor trials. Lawyers for another convicted Libor trader were in court for the hearing Friday.
'Egregious Failings'
"To say we are troubled is something of an understatement," said Judge Gross. These were "egregious failings of Mr. Rowe."
Rowe's behavior occurred during the retrial of two other former Barclays traders who were originally prosecuted alongside Pabon but the jury was unable to reach a verdict. Rowe denied at the time he misled the SFO and jurors about his expertise, though he did acknowledge texting traders he knew for help on some terms during breaks from the witness stand.
The men's convictions stemmed from global investigations into Libor-rigging that led to fines of about $9 billion against a dozen firms. Former UBS Group AG trader Tom Hayes was the first person to be jailed for the offense in 2015 and is serving 11 years in prison.
Quotes from this Article
Before it's here, it's on the Bloomberg Terminal.
LEARN MORE