Anger Boils As Chinese Police Investigate Abuse at Kindergarten
Bloomberg News
RYB Education says it's cooperating with police investigation

Parents say they've found needle marks on their children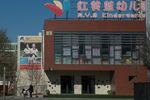 Reports that Beijing police were investigating claims of abuse at a local kindergarten sent shares of its owner plunging in New York Friday and spurred reactions ranging from dismay to fury on Chinese social media.
The allegations, while yet to be verified by authorities, have been explosive. Parents have told publications including the news magazine Caixin of finding what they believe to be needle marks on their children and of students saying teachers gave them white tablets to eat. U.S.-traded RYB Education Inc., the operator of the kindergarten in eastern Beijing, has said it's cooperating with police, while adding that the facility's principal has told authorities some of the allegations are false.
American depository shares of RYB dropped 38 percent to $16.45 Friday, the lowest level since its September initial public offering.
"Middle class parents are feeling they have no sense of security anymore -- it can happen to their kids too," says Jean Liu of Beijing, who has an 8-year-old girl and runs a chat group on social media for parents concerned about their children's education. "Parents are talking about how this is not just one incident but instead shows the problems in China's entire early childhood education industry. But they feel helpless."
The latest allegations are the third incident in just the last month involving child care, China Daily reported on Friday. On Nov. 13, Shanghai police detained the head of a daycare center run by a top online travel agency for its employees after surveillance video showed staff shoving children to the ground and forcing them to eat a substance investigators said was mustard, the English language paper reported.
Shocked
"I was shocked," Vickey Wei, a 32-year-old engineer in Shanghai who has a five-year-old daughter studying in a private kindergarten, said of the allegations about the kindergarten in Beijing. "I made comments on my Wechat to express my anger and let more people know it."
Angry demands for action have dominated Weibo and Wechat, China's main social media platforms. The top 13 stories on Weibo, a service similar to Twitter Inc.'s, were all about the incident on Friday. In reaction, the Ministry of Education announced Thursday evening it was launching a special inspection of the management of kindergartens nationwide.
Annual per-capita expenditure on education, both for private schools and tutoring, has been growing rapidly, up from around 600 yuan ($91) in 2006 to over 1,000 yuan last year, according to China Renaissance Securities. "Rising mid- and higher-class families have been more willing to spend on their children's education," it said in a Sept. 11 report.
That's driven the businesses of private educators including pre-school and kindergarten providers such as Beijing-based RYB Education. Founded in 1998, the company describes itself as a "pioneer of Chinese early-years education," on its website. RYB teaches some 300,000 children every week in more than 1,300 daycare centers and nearly 500 kindergartens spanning more than 300 Chinese cities. It listed in New York in September, raising $166 million.
Shares Tumble

Amid the stock rout, RYB Education announced a plan to buy back up to $50 million of shares in next 12 months. Volume in the shares surged to a record 11.4 million shares compared with about 77,000 Wednesday. "It seems like they are buying back because of pressure from institutional investors," said Anthony Tong, Toronto-based chairman of Beacon Securities Institute. "Today's trading volume indicate some investors are pulling out."
Rapid growth has also prompted concerns about inadequate regulation. "It is too easy to be a kindergarten teacher in China, which means the standards are too low -- that's a big problem," said Shanghai-based Xiong Bingqi, vice president at the 21st Century Education Research Institute. More than a quarter of kindergarten teachers don't have any education beyond high school and half don't have the proper certificates to teach kindergarten, he said.
A new law on private schools that took effect in September is expected to tighten supervision of private schools and could restrict the process of awarding licenses to new operations. Regardless, the rash of recent incidents is likely to have an impact.
"We expect regulators to intensify scrutiny; new rules or policies may be implemented," said Wu Kan, a fund manager at Shanshan Finance Co. in Shanghai. "It will be a big barrier to overcome for China's entire early education industry."
— With assistance by Dexter Roberts, Mengchen Lu, Ling Zeng, Cindy Wang, and Ben Scent
Before it's here, it's on the Bloomberg Terminal.
LEARN MORE