Under Siege Pakistan Capital Adds to Premier's Woes Before Polls
By and
Government in negotiations with right-wing religious group

'Mainstreamed' extremist outfits seen as backed by military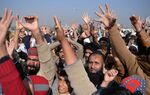 Religious protesters have held Pakistan's capital under siege for more than two weeks, strengthening the perception that Prime Minister Shahid Khaqan Abbasi's government is losing control and groups allegedly backed by the military are gaining a hold before polls next year.
Hundreds of clerics and supporters of the little known right-wing religious group -- Tehreek-e-Labaik -- have blocked a main highway, diverting traffic across Islamabad and choking the city despite a high court order to end the protests. Interior Minister Ahsan Iqbal said this week he is reluctant to implement the judges' order, citing concerns over potential violence, and is seeking more time to negotiate.
The episode shows how despite a three-year security crack-down on insurgent groups that organized attacks across Pakistan, including a December 2014 massacre of more than 100 children at a school in Peshawar, the South Asian nation still harbors and struggles to contain extremists. U.S. President Donald Trump in August pressured Pakistan to stop providing safe havens for terror groups, including the Taliban-affiliated Haqqani Network.
It also shows the government's lack of power in dealing with groups allegedly supported by Pakistan's powerful army, of which elements have historically fostered ties with insurgents targeting neighboring Afghanistan and India. The armed forces have been accused of so-called "mainstreaming" terror outfits -- re-branded as political entities to contest elections, a charge the military refutes.
Diluted Authority
"The government's authority has been diluted," said Ahmed Bilal Mehboob, president of the Pakistan Institute of Legislative Development and Transparency. "They aren't sure if the military stands behind them. Many people in the government still believe that protesters are getting support from elements within the state."
Major General Asif Ghafoor, the armed force's main spokesman, didn't answer calls seeking comment.
The Islamabad lock-down adds to pressure on the ruling party, whose chief Nawaz Sharif, his children and Finance Minister Ishaq Dar are facing corruption charges. The Supreme Court in July disqualified Sharif as prime minister following a probe into his family finances triggered by the Panama Papers leak last year. Abbasi, who replaced Sharif, is also struggling to contain the country's widening external deficits ahead of the polls next year.
Tehreek-e-Labaik, which formed in 2015, first showed its strength at a September by-election in Lahore, Pakistan's second-largest city. It backed an independent candidate who took more than 7,000 votes, depleting the ruling party's share in a safe seat that ousted Sharif had to vacate. The group didn't contest for the seat as it isn't yet registered as a political party.
Paralyzed Capital
Then on Nov. 6 they marched on the capital and the adjacent city of Rawalpindi after Law Minister Zahid Hamid made changes to an oath lawmakers have to take. Hamid tweaked a declaration that Muhammad is the last prophet of Islam -- a move seen to accommodate the persecuted minority Ahmadiyya Muslim sect, which believes in an additional prophet after Muhammad.
The government then reversed the amendment in a bid to stem the religious backlash, including the accusation of blasphemy -- which holds the death penalty in Pakistan. The move didn't work however, and Mohammad Ijaz Ashrafi, a spokesman for protesting clerics, said the sit-in will continue until the minister is removed.
For now the government seems paralyzed, along with Islamabad's traffic.
"The sit-in has nothing to do with the Prophet, but to give an opportunity to enemies of Pakistan," Interior Minister Iqbal said. "Spreading hatred can't be permitted."
Before it's here, it's on the Bloomberg Terminal.
LEARN MORE