Qatar Says Committed to Official FX Rate After MSCI Proposal
By
Central bank says MSCI proposal on offsure rate unjustified

Regulator says it has enough reserves to meet demand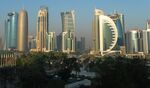 Qatar's central bank said it will honor commitments to provide dollars to local and foreign investors at the official exchange rate, describing a proposal by index provider MSCI Inc. to use the offshore rate to value the country's stocks as unjustified.
"There are no restrictions on any banking transactions, including transfers," the central bank said in an emailed response to questions on Thursday. The offshore rate "is not reflective of the Qatari market fundamentals, and all banks in Qatar execute transactions using the on-shore rate," it said.
MSCI, whose gauges guide the allocation of about $11 trillion in assets, is consulting investors on the proposal after complaints that a boycott of Qatar by four Arab countries was making access to the official exchange rate difficult. The central bank said it "has sufficient foreign reserves that can cover all investors' requirements."
Read More: Qatar's Elusive Riyal Spurs MSCI to Seek Change for Stocks
Like the majority of neighboring energy-rich Gulf countries, Qatar pegs its currency to the dollar, and economists say assets held by its sovereign wealth fund are enough to maintain an exchange rate of 3.64 riyals to the greenback. The MSCI proposal, however, risks undermining efforts to attract foreign investors to offset the impact of the lingering Saudi-led boycott.

"MSCI's proposal won't help improve Qatar's investment climate, but that's not their job," said Jean-Paul Pigat, Dubai-based head of research at Lighthouse Research. "That's the job of the central bank, and it will be up to them to restore confidence and ease concerns about the stability of the peg."
The gap between the onshore and offshore rates widened after Saudi Arabia and several other Arab nations severed diplomatic and transport links with Qatar in June, accusing the country of funding terrorist groups, a charge Doha has repeatedly denied. The embargo prompted some Qatari banks to provide enough cash for domestic business, but not for trades deemed speculative, people familiar with the matter said in July.
"As long as investors are able to freely convert their profits and capital gains to dollars and repatriate them without restrictions, then their sentiment shouldn't be impacted," said Ziad Daoud, Dubai-based analyst at Bloomberg Economics. "If this convertibility was compromised, then attracting foreign investment would be difficult for Qatar."
Qatar's benchmark stock index has dropped 26 percent this year, making it the world's worst performer among indexes tracked by Bloomberg.
MSCI said its new calculations would change index levels and performance, market capitalization, fundamental data, and annualized traded value ratios. The index provider will collect feedback from investors until Dec. 1 and plans to announce a decision, as well as potential implementation dates for changes, by Dec. 5.
"Given the challenges it's facing in the region, it would make sense for the central bank to provide the dollar liquidity needed given that the size of the market isn't huge and the country has substantial FX reserves," Simon Quijano-Evans, an emerging-market strategist at Legal & General Investment Management Ltd, said on Wednesday.
— With assistance by Amir Shabana, and Dana El Baltaji
Before it's here, it's on the Bloomberg Terminal.
LEARN MORE