Hariri Marks Return With Vow to Advance Lebanon Energy Deals
By
Consortium of Total, Eni, Novatek bid for exploration license

Prime minister said Wednesday he was delaying his resignation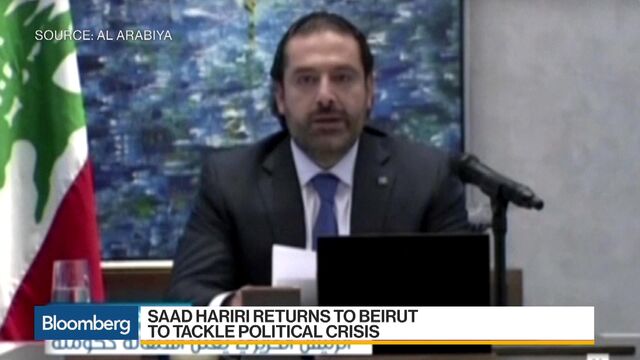 Lebanon's Prime Minister Saad Hariri promised to prioritize licensing for offshore oil and gas exploration, and said he would be "positive" in dealing with various political factions after suspending his resignation.
Lebanon considers energy exploration a priority and will "move forward" on licensing, Hariri told Bloomberg Thursday on the sidelines of a banking conference in Beirut, where his surprise appearance surrounded by body guards led to a rush of attendees to the stage seeking handshakes and photos.
Hariri's comments indicate an eagerness to get on with business after accepting a request from President Michel Aoun to delay his departure from office, temporarily defusing an escalating political crisis. His resignation announcement, delivered from Saudi Arabia on Nov. 4, rattled investors and drew in regional and global powers concerned that Lebanon was again about to become a proxy in a broader Saudi-Iranian showdown.
"Our main concern in Lebanon is stability, and this is what we will work for," Hariri said in a short speech at the conference. Speaking later in an interview, Hariri said he would wait to see the results of consultations among political parties before chairing any cabinet sessions.
Markets have rebounded since Hariri's return, with the yield on Lebanon's Eurobonds due in October 2037 falling 6 basis points on Thursday to 7.7 percent, following a 23-point drop a day earlier. Solidere, the real estate company founded by Hariri's father Rafiq Hariri, surged 5.2 percent, the most since April, bringing its gains this week to 8.9 percent.
Lebanon wants a share of a burgeoning oil and gas industry in the eastern Mediterranean, where gas fields including the Leviathan and Tamar have been discovered in recent years. An international consortium comprising Total SA, Eni SpA and Novatek PJSC submitted a bid to explore two blocks in Lebanon's first licensing round in October.
— With assistance by Filipe Pacheco
Before it's here, it's on the Bloomberg Terminal.
LEARN MORE